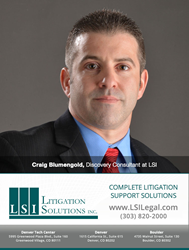 Craig has a passion for building relationships with clients and shares the Company's values.
Denver, CO (PRWEB) May 05, 2015
Blumengold is responsible for strategy and innovation in the development of LSI's sales efforts. He has more than 10 years experience in business development and sales, and specialized expertise in legal document review services and support including eDiscovery litigation software, Ipro Eclipse.
By cultivating longterm relationships with law firms and corporations, Blumengold provides a full spectrum of litigation support solutions including, but not limited to, electronic discovery services and legal document review. Collaborating closely with senior management, he is able to provide strategic direction and market insight to enhance market position and further develop the LSI client base.
Blumengold is responsible for client relations and is an advocate for relationship building. "Providing clients with eDiscovery and legal document review services is not about closing a sale; it's the ability to forge a relationship and nurture it to build a long term, successful enterprise," said Blumengold.
"Craig has a passion for building relationships with clients and shares the Company's values. His business development, litigation support services and eDiscovery expertise make him a valuable addition to the LSI team," said Michael Lopez, president of Litigation Solutions Inc.
To contact Craig Blumengold, call (303) 820-2000 or email cblumengold(at)LSILegal(dot)com.
About Litigation Solutions Inc.
Litigation Solutions Inc. (LSI) is a full service litigation support company offering a complete range of solutions by a professional staff. We assist clients with their electronic discovery needs from data collection and analysis of phones, tablets, desktop and laptop devices through document review and production. We process and convert data to TIFF or leave it in a native file format for review in one of our web-based review tools. From the time your case is filed to the time it goes to trial, LSI is fully equipped to deliver the right solution at the right time. With more than 15 years serving the legal industry, LSI will meet and exceed your requirements at every stage in the life of your case.