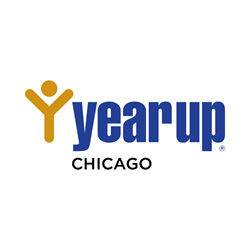 Chicago, IL (PRWEB) May 06, 2015
Continuing to scale its innovative and effective approach to job training for disconnected young adults, Year Up announced today that Jack Crowe will lead Year Up Chicago as Executive Director, effective May 26th.
"Jack has tremendous experience in leading mission-driven organizations, with an unwavering commitment to bridging the Opportunity Divide," said Gerald Chertavian, Year Up Founder and CEO. "As Year Up Chicago continues to grow, Jack will ensure that our students receive the technical and professional skills critical for success — and for employers' talent needs."
Mr. Crowe joins three other recently appointed leaders to help build Year Up's capacity to serve thousands more young adults each year: Kim Williams, Executive Director of Year Up Atlanta; Robin Watson, Executive Director of Year Up Jacksonville; and Kim Owens, Executive Director of Year Up's newest site, Year Up Arizona.
"It's a testament to the quality and commitment of our organization that we're able to enlist such talented individuals to take Year Up to even higher levels of impact," said Mr. Chertavian.
Prior to joining Year Up, Mr. Crowe served as Chief Operating Officer and General Counsel at Cristo Rey Network, the largest network of urban high schools in the country enrolling only low-income youth. Previously, he was General Counsel of FBOP Corporation and a partner at Winston & Strawn. Mr. Crowe graduated with a JD from Loyola University of Chicago.
"I'm honored and excited to lead a great team as we look to provide opportunity to even more young adults in Chicago each year," said Mr. Crowe. "We will expand Year Up Chicago's reach into businesses across the city to ensure they have access to a pipeline of skilled, motivated talent for IT support, web development and software roles while providing Year Up students with professional internships and permanent positions."
Launched in September 2010, Year Up Chicago currently serves 160 young adults annually, and is building capacity to serve 1,000 students. Year Up Chicago students receive six months of technical and professional skills training followed by six-month internships at corporate partner firms including Hyatt, JPMorgan Chase and Bank of America. Ninety-one percent of Year Up Chicago's most recent graduates were employed or attending college full-time within four months of completing the yearlong program, with average starting salaries of $17/hour.
About Year Up Inc.
Year Up's mission is to close the Opportunity Divide by providing urban young adults with the skills, experience, and support that will empower them to reach their potential through professional careers and higher education. Year Up achieves this mission through a high support, high expectation model that combines marketable job skills, stipends, internships and college credits. Its holistic approach focuses on students' professional and personal development to place these young adults on a viable path to economic self-sufficiency. Year Up currently serves more than 2,700 students a year at sites in Arizona, Atlanta, Baltimore, Boston, Chicago, Jacksonville, the National Capital Region, New York City, Philadelphia, Providence, Puget Sound, San Francisco Bay Area, and South Florida. To learn more, visit http://www.yearup.org or http://www.youtube.com/yearupinc.