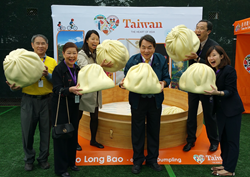 TTB Director General Hsieh and staffs in front of the giant Xiao Long Bao display
California (PRWEB) May 05, 2015
Taiwan Tourism Bureau in San Francisco promoted one of its major tourism campaign themes "Time for Taiwan"-LOHAS (Lifestyles of Health and Sustainability) through supporting the 2015 Swinging Skirts LPGA Classic Golf Tournament, which was co-sanctioned with a Taiwanese sponsor on U.S. soil on April 22-26 at the Lake Merced Golf Club, Daly City, California. At the tournament, a Taiwan Tourism Pavilion was set up to cheer for the Taiwanese players while promoting golfing in Taiwan.
With the North America Trade Show hosted by the Tourism Bureau, Director General Hsieh traveled to the U.S. and led his team to promote Taiwan Tourism; He especially visited the Taiwan Pavilion at the Swinging Skirt LPGA golf event in order to support and cheer for the Taiwan golfers. "The golf courses and resorts in Taiwan are breathtaking. We hope to boost the American tourists' interest in traveling to Taiwan through this event. Golf lovers and enthusiasts would also be able to take pictures with a giant Xiao Long Bao display along with our mascot Mr. Oh! Bear throughout the week-long event. We welcome everyone to come join us and experience Taiwan's unique charm and passion," said Director General Hsieh.
The Swinging Skirts LPGA Classic featured LPGA top players from Taiwan and around the world. According to Sylvia Yu, Director of the Taiwan Tourism Bureau in San Francisco, golfing in Taiwan is not only extremely convenient, but also reasonably priced. The diverse landscapes in Taiwan enhance the pleasure of golfing, and the golfers can also experience a variety of cuisine and unique hot springs whilst on their golfing breaks.The increasing number of famous Taiwanese golf players also attracts golf lovers to visit and golf in Taiwan. Lately, Taiwan Tourism Bureau has been making ongoing effort to develop and promote golfing as a part of its tourism resources, including officially listing local golf courses as part of its major tourism industries, setting up golf road signs, creating Golf in Taiwan web page within the LOHAS tour theme in Taiwan Tourism Bureau's official website, publishing Golf in Taiwan tourism maps in 5 language versions, and actively enhancing its infrastructure combining sports with recreation resources to create a LOHAS in Taiwan. "The Bureau hopes to efficiently attract American golf enthusiasts by actively promoting our golf resources and development in a tourism exchange opportunity like this event," said Director Yu.
The Taiwan Tourism Pavilion combined the Taiwan LOHAS and gourmet food elements and created a "Cheer for Taiwan" pavilion at the tournament. The giant Xiao Long Bao display is made up of an eight-foot wide steam case with eight giant Xiao Long Bao(s) that are three-foot wide; Visitors can actually sit inside the Xiao Long Bao case and hold on to the detachable Xiao Long Bao(s) for photo opportunities. The display attracted tremendous attention with its fun and engaging components. Mr. Oh!Bear's appearance was also a crowd-pleaser offering warm bear hugs and giving out branded Taiwan cheering flags, miniature Xiao Long Bao key chains, golf balls and golf towels to all the families and fans at the event. It was a fun-filled experience for everyone who got to enjoy the exciting golf tournament as well as getting to know Taiwan better.
For travelers who would like to inquire detail information about visiting Taiwan and all the incredible annual events, please visit http://www.taiwan.net.tw for Taiwan's event calendar.