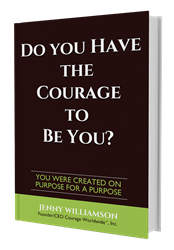 Jenny Williamson is a one-woman wrecking crew! She lives the message of this book and proves what you can do if you have the courage to be YOU! - Reggie McNeal, Best-selling author, Get Off Your Donkey! Help Somebody and Help Yourself
(PRWEB) May 06, 2015
Jenny teaches others to take courage and begin their own journey. She wants everyone to discover and fulfill their own water-walking, giant-slaying, history-making destiny. It will take courage, which simply means walking through our fears and conquering our self-doubt. Jenny's book provides tangible steps and direct resources needed to be and do all you were created for. This book will change the reader so they can change their world.
"Do You Have The Courage To Be You?" was the provocative question that changed the entire trajectory of Jenny's life, and became the impetus used to propel her on a journey of discovering her water-walking, giant-slaying, history-making destiny. She prays it will do the same for her readers. As Jenny neared her fortieth birthday, she felt pitifully ordinary, was mired in mediocrity, and cloaked in comfort. She knew courage would be required for her to leave the known for the unknown.
Jenny's tour with iRead Book Tours ran from April 13th-24th. Jenny and her book were featured on a series of 17 blogs over the course of the tour. If anyone would like to check out the tour, they can find the tour list here http://www.ireadbooktours.com/blog---current-tours/do-you-have-the-courage-to-be-you-by-jenny-williamson.
Jenny Williamson:
Jenny Williamson is the founder and CEO of Courage Worldwide and the author of Do You Have The Courage To Be You? published by Next Century Publishing. Courage Worldwide has opened homes for children who are victims of sex trafficking in Northern California, and Tanzania, Africa. She is an authority on the issue of child sex trafficking and the impact of this crime upon its victims. She is certified life coach and much sought after keynote and workshop speaker.
You can buy your copy of 'Do You Have The Courage To Be You?' from Amazon and Author Website