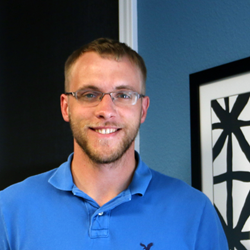 Ankeny, IA (PRWEB) May 06, 2015
QA Graphics is proud to announce the hiring of Zach Davis, as the company's newest Graphic Specialist.
Zach's responsibilities will include developing graphical screens for the controls industry using control company specific automation software, staying familiar with the latest graphic design techniques for the major building control companies, helping develop and maintain standards and procedures for developing graphical screens. He will also keep up-to-date on all the latest visualization software releases, keep accurate and organized project notes, and provide customer support for graphical issues as needed.
Zach brings with him over six years of experience and proven success, as a HVAC professional through a variety of positions. Due to the on the job training and studying, Zach earned his degree from the Aircraft Electronics and Environmental Systems Technical School from the United States Air Force. He became fully qualified to work on the electrical and environmental systems of the A-10 and F-16 aircraft. After working for the Air Force, Zach was a Lead Man for Central Tank Coatings, Inc. in Elgin, IA, and then a Front Office/Wall Coverings Assistant Manager for Menards, Inc. in Ankeny. Prior to joining QA Graphics, Zach has worked as a HVAC Installer for Wyckoff Heating and Cooling in Carlisle, IA.
In his free time, Zach enjoys going hunting and fishing with his dad and brother. Zach really enjoys cheering on the Green Bay Packers and catching as many Iowa football games as he can.
QA Graphics is excited to welcome Zach to the team!
About QA Graphics
QA Graphics is a leader in the building automation and green building industries, providing HVAC graphic development services, system graphics, floor plan graphics, and energy dashboards to help organizations educate occupants about building performance and sustainability. The company also provides marketing solutions such as interactive applications, 3D design and animation, mobile app development, videos, and other multimedia. Visit http://www.qagraphics.com to learn more.
###