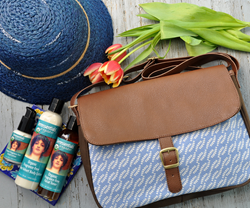 (PRWEB) May 06, 2015
At a time when more shoppers are reaching for certified organic and fair trade products, the Pop Up Shop and Mini-Expo will offer visitors a chance to stay informed about their buying choices.
"We love the challenges of sourcing our certified organic ingredients from partners around the world. It's so exciting to see faces light up when folks first experience the scents and sensations of the these ingredients in our certified organic skin and body care products. We also love to inspire people with heart-warming success stories about the artisans who make our fair trade craft products," co-founder Diana Kaye explains.
Terressentials is one of the oldest personal care companies to have earned USDA organic certification for its many products. The USDA National Organic Program requires adherence to its strict rules for the growing and processing of organic materials and rigorous certification procedures to produce verified, certified organic-labeled finished products made without synthetic toxic chemicals.
The Pop Up Shop will feature Terressentials' locally-produced handcrafted certified organic personal care products and will also present an elegant collection of fair trade and fair made jewelry, scarves, handbags and gifts.
Fair Trade focuses on helping mostly third-world farmers and artisans build sustainable businesses. One of the key goals of the fair trade movement is to empower women and under-privileged groups by providing fair wages and safe working conditions, by creating opportunities for education and health care and by reinvesting profits within communities while preserving traditional culture and protecting the environment. The Pop Up will also feature the work of a number of American artisans.
"We love our organic and fair trade work and are completely committed to our environmental education mission," Diana shares. "We hope that our efforts will serve as a model of true sustainability and that we will continue to empower others to make informed choices and to view our world as one giant community sharing our planet's resources."