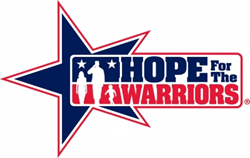 We chose Hope For The Warriors® based on their team and their commitment and support for our veterans.
Union, NJ (PRWEB) May 07, 2015
Two military supporters will Ride for Warriors on their motorcycles from Seattle, Washington to New York City this summer to support military families. These two men will be raising funds and awareness for Hope For The Warriors®, a national nonprofit dedicated to restoring a sense of self, restoring the family unit, and restoring to our service members and our military families.
Air Force Veteran Michael Nehlsen and Jeff Molesko will start their cross-country ride in Seattle on July 1 and finish in Union, New Jersey on July 13, 2015. Nehlsen, a New York native, and Molesko, a New Jersey native, will stop at landmarks along the way in their effort to raise funds and awareness for the needs of wounded service members and military families. This is the second cross-country fundraising trip that Nehlsen has taken. The first trip raised nearly $20K.
Nehlsen and Molesko are raising funds for the A Warrior's Wish® program within Hope For The Warriors®. As of April 2015, the Riding for Warriors team has already raised enough funds to grant three Wishes, more than $17K to date. And Nehlsen has no plans to slow down.
"I am a veteran and I support our military out of patriotic devotion for our country and the men and women who serve," said Nehlsen. "We chose Hope For The Warriors® based on their team and their commitment and support for our veterans."
The funds that the duo have already raised will restore hope to three veterans. One Texas Army veteran, along with his wife and five children, was granted his Wish for a Bass Pro 160 Tracker fishing boat to share his recovery process with fellow veterans, friends, and family. The other two Wishes for bicycles were granted to two Army veterans looking to grow their rehabilitative cycling team for fellow veterans. By their journey's end, Nehlsen and Molesko hope to have raised enough funds to fulfill two additional Wishes.
A Warrior's Wish® honors the goals and desires of severely wounded service members, veterans, and their families. Wishes fulfill a desire for a better quality of life or support a quest for life-gratifying endeavors for post-9/11 service members, their families, and families of the fallen who have sustained physical and psychological wounds in the line of duty.
To learn more about Riding for Warriors, visit Nehlsen's and Molesko's fundraising page at hopeforthewarriors.org/riding4warriors.
###
Hope For The Warriors® Mission Statement:
We believe those touched by military service can succeed at home by restoring their sense of self, family, and hope. Nationally, Hope For The Warriors® provides comprehensive support programs for service members, veterans, and military families that are focused on transition, health and wellness, peer engagement, and connections to community resources.
Hope For The Warriors® has earned a Four-Star Rating from Charity Navigator (http://www.charitynavigator.org) for four consecutive years. Charity Navigator is an independent organization that evaluates fiscal responsibility and accountability of nonprofits.
Hope For The Warriors® (Federal Tax ID 20-5182295) is a 501(c)(3) tax-exempt charity as defined in sections 509(A)(1) and 170(B)(1)(A)(VI) of the Internal Revenue Code. Combined Federal Campaign, CFC #27800.