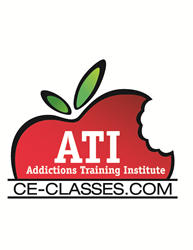 "There is an acute shortage of Alcohol and Drug Counselors nationwide. We are excited to be helping fill this need and to help people on a career path to help other people."
(PRWEB) May 19, 2015
Addictions Training Institute has announced the launch of a fully online program that teaches the courses for people to become Certified Alcohol and Substance Abuse Counselors.
"We are thrilled to be launching Addictions Training Institute." said Ron Black, president of CE-Classes.com. "There is an acute shortage of Alcohol and Drug Counselors nationwide. We are excited to be helping fill this need and to help people on a career path to help other people."
The Addictions Training Institute (ATI) offers a Certificate in Alcohol and Drug Counseling and is designed to meet the educational requirements to become a drug counselor nationwide. In California, the Addictions Training Institute is approved by CAADAC. Each course is focused on required content as specified by state regulations and standards. It consists of 6 fully online courses of 45 hours each, supervised practicum, and a field work internship. ATI also provides certifications in Florida in the fields of Addiction, Criminal Justice, Preventions, and Sex Therapists, and hundreds of online CE and CEU courses for certified or licensed professionals.
About CE-Classes.com
CE-Classes.com is committed to helping individuals earn continuing education credits in the most efficient, easiest and most cost-effective way possible. For over 15 years, CE-Classes has provided online courses, live seminars and webinars that are approved for various health care professionals for continuing education credits by a number of state and national boards and also serves a wide range of licensed professionals such as mental health counselors, therapists, psychologists, nurses and social workers. Individuals are given the option to choose between purchasing one or two courses or the Unlimited Online Courses Package for a year.
CE-Classes.com possesses multiple approvals such as American Psychological Association (APA), Association of Social Work Boards (ASWB), National Board for Certified Counselors (NBCC) and National Association of Alcoholism and Drug Abuse Counselors (NADACC). The courses offered are accepted nationwide.