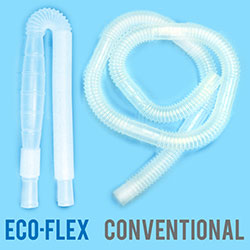 This is a game-changer for hydrotherapists.
North Vancouver, BC (PRWEB) May 06, 2015
Prime Pacific Health Innovations, the world's leading colon hydrotherapy supplier, is excited to announce a new series of universal, one-time-use speculum kits which will help reduce the industry's carbon footprint while improving treatment efficacy and saving therapists money. These kits feature Eco-Flex™, the world's first waste hose designed specifically for colon hydrotherapy. "This is a game-changer for hydrotherapists," claims the company's president, Mr. Delmar Vogel.
By shipping and storing these unique accordion-style hoses in their compact form both shipping costs and storage space can be reduced by a whopping 50%. "I am so pleased to be the industry leader in providing ecologically-friendly supplies," says Mr. Vogel. "Our new Eco-Flex™ hoses use one-third less plastic while still providing greater functionality and improved efficacy. And, although compact when shipped, therapists can easily stretch them to any desired length – up to four feet, two inches." And these patent-pending hoses fit all standard closed-system colon hydrotherapy devices.
Conventional speculum kits are bulky because of their waste hoses which were originally designed for breathing ventilators not colon hydrotherapy. "The breakthrough," claims Mr. Vogel, "came when we re-thought the design from end-to-end, then geared our hoses specifically for the rigours of high-performance colon hydrotherapy."
"I like your Eco-Flex kits because we pay less for shipping, they take less space for storage and the big pump is a good option with very good results." - Leo H. Woodbridge, ON.
Eco-Flex's new bulbous pump section gives therapists far better control over manual pumping which many practitioners believe significantly improves treatment efficacy. This enables easier, more accurate pulsating or pumping action for better waste maceration in the colon – a benefit to both therapists and patients.
"The thing I liked most about the Eco-Flex kits is that I could make the waste hose as long or as short as I needed. I also really liked the compact size of the packaging which makes it much better for shipping and storage." - Rose G. Edmonton, AB
Eco-Flex™ also makes therapist-initiated "fill" cycles easier, requiring only a simple kink of the special "fill-control" section. Therapists can simply "open" or "close" the hose without having to reach back to the controls on a hydrotherapy machine.
"These new hoses are much better compared to the old ones." - Mary S. Saskatoon, SK
Ms. Natascha Vogel, Business Development Director, invites hydrotherapists to "come and visit our website to get free samples of all five of our new Eco-Flex kits." She adds, "All you do is click which ones you want. It's really just that simple. It's one-hundred percent free with absolutely no obligation and no strings attached."
Click here to obtain your FREE SAMPLES right now.
"I have been buying supplies from Prime Pacific for years. They are a great company that always deliver what they promise." - Sofia R. Fort Langley, BC
As everyone familiar with colon hydrotherapy knows, every safe colonic treatment requires a one-time-use speculum kit. These kits include one anal speculum, one water line, one waste hose and, if required, a three to five gram packet of jelly lube. "I am very pleased," says Mr. Vogel, "that when people use our new Eco-Flex kits they will help reduce our industry's overall carbon footprint and do it while getting more control, superior treatment efficacy and saving money."
Prime Pacific Health Innovations is the leader in colon hydrotherapy equipment and supplies since 2001. The company's colon hydrotherapy devices are the world's safest and most effective thanks to exclusive features such as APST™ and Dual Sanitation™. APST™ ensures a safe upper limit of water pressure in the colon while Dual Sanitation™ enables easy yet thorough disinfecting of the entire device to prevent cross-contamination.
"When it comes to customer service and product configuration Prime Pacific far exceeds other like companies." - Michael P., Citrus Heights, CA
To find out more about the Company's world leading hydrotherapy devices and unique safety features click here