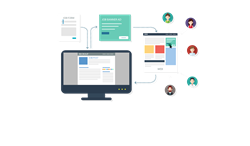 JobSamurai gives you exposure to tons of relevant jobs without even having to search for it and we don't spam your inbox with job alerts.
Thunder Bay, Ontario (PRWEB) May 06, 2015
Recroup today announced it is launching JobSamurai, a first of its kind platform that enables users to find job opportunities without having to search for them. JobSamurai uses talent-retargeting to search for jobs that match a candidate's criteria, then delivers the job opportunity in the form of a digital ad, reaching users where they spend time online.
After candidates enter the necessary details, the JobSamurai search engines parse and filter the web for job postings that match their criteria, ensuring candidates are exposed to the best jobs based on freshness and relevance. The process takes between 7 to 10 days before a candidate will begin to see results.
Once a candidate subscribes to JobSamurai, the search engines index all the jobs, eliminating the need for users to sign up for email notifications or revisit the site to view job opportunities. JobSamurai simply converts the relevant jobs into engaging banner ads and displays them on sites where candidates spend time.
JobSamurai is a first of its kind talent-retargeting platform built for candidates who don't want to spend hours finding irrelevant jobs. Using JobSamurai, candidates can sit back, while the job ads are delivered to them. JobSamurai is rethinking the search in job search.
About Recroup: Recroup is a job ad platform where recruiters can promote their jobs to the largest audience possible. Recroup converts a traditional job positing into a banner ad and publishes it all over the web.
http://www.recroup.com