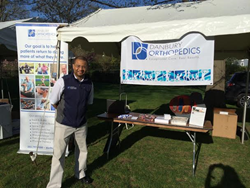 "These events draw individuals and families to test their fitness skills and enjoy a day of fun," said Dr. Sealey. "It's a great opportunity for us to give back, offer safety and injury prevention tips and to let people know about services we provide,"
Danbury, CT (PRWEB) May 07, 2015
Danbury Orthopedics is proud to announce their sponsorship of two important community events as part of an ongoing commitment to health and wellness initiatives. The first is Ridgefield's 8th Annual Run Like a Mother (RLAM) 5K race taking place on Mother's Day, May 10, 2015. The second is the 4th Annual Newtown Mad Dash on June 13, 2015. As part of these sponsorships, Dr. Randolph Sealey, Foot & Ankle Specialist with Danbury Orthopedics will be present at both events to answer questions and provide information on healthy running habits and education on safety and injury prevention.
Run Like a Mother:
In 2008 Ridgefield mom and runner, Megan Searfoss, started the Run Like a Mother 5K with a mission to celebrate and empower women on Mother's Day and to inspire women of all ages to lead healthy, active lives. The race also features a 1-mile kids race prior to the 5K. The race ends in Ballard Park where there will be a fun celebration afterwards featuring local businesses, music and giveaways. In addition to having Dr. Sealey at the finish line, Danbury Orthopedics will also be hosting a fun, family photo booth for kids and their moms to snap a Mother's Day photo.
Newtown Mad Dash:
The Newtown Mad Dash is presented by the Newtown Youth Academy and is the ultimate fitness adventure for people of all ages. It's a combination race and obstacle course. Participants can choose from 4 options; the Advanced Course has 3 unique laps and totals 4.3 miles, new Superheroes Course, the Beginner/Family Course, which has 1 lap and totals 1.7 miles and the Mini Dash Adventure also new this year.
In addition to these sponsorships, Danbury Orthopedics has several new features including its new Western Connecticut Orthopedic Surgical Center at the White Street location focused on outpatient surgeries and procedures. Also at the White Street location is a new walk-in, emergency care service, OrthoCare Express; open from 8 a.m. – 8 p.m. weekdays and from 10 a.m. – 3 p.m. on weekends for people who need immediate attention, evaluation and treatment of orthopedic injuries by skilled professionals. This service saves patients from long wait times at emergency rooms or treatment in urgent care settings, which can result in needed follow up by skilled orthopedic professionals during normal business hours.
For more information about Danbury Orthopedics, please visit http://www.dortho.com; Run Like a Mother visit http://www.runlikeamother.com and Newtown Mad Dash visit http://www.nyasportsfitness.com.
About Danbury Orthopedics:
Danbury Orthopedics is a multi-specialty practice staffed by leaders in orthopedic care since it first opened in 1954; the practice is a member of OrthoConnecticut, along with New Milford Orthopedics and Coastal Orthopedics, providing comprehensive care to the community for over 90 years. The practice's Centers of Excellence provide integrated treatment, offering individualized and compassionate care by a team of specialists. The goal of the practice is to help patients regain mobility, lead active lives and attain optimal wellbeing. To make an appointment with any of our specialists, or learn more about Danbury Orthopedics, please visit http://www.dortho.com/ or call 203.797.1500.