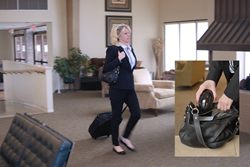 The convenient and capable companion for moms on the move, whether for business or pleasure.
Troy, MI (PRWEB) May 07, 2015
Looking for a gift for the Mom on the go? The Sonic Traveler™ (SBT600ss) alarm clock from Sonic Alert is the convenient and capable companion for Moms on the move, whether for business or pleasure. A USB port provides a charge for her smart phone, and is compatible with all makes and models that have a USB connection.
Compact and stylish, the Sonic Traveler alarm clock has a number of other very useful features including Sonic Alert's unique bed vibration that provides a tactile sense ensuring you wake up even while others continue sleeping (with volume turned down). The bright red display with five-level dimmer is easy to see and adjust to the desired setting. Tone and volume are also user-adjustable, as well as the duration for both snooze and alarm.
To ensure settings are ideal, the Sonic Traveler features a simple test mode, 12 and 24 hour formats, battery backup and a one-year Sonic Alert blast-proof warranty round out the Traveler's key features.
For more information, contact Sonic Alert 1407 Allen, Troy, MI 48083. Phone 248-577-5400, Fax 248-577-5433, or visit http://www.sonicalert.com. Sonic Alert provides products to improve the lives of the hard-to-wake, elderly and the hard of hearing. They are committed to continually producing new and innovative products that fill their customers' needs.