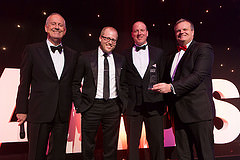 We are rapidly expanding our footprint through a number of smart grid projects that have the potential to touch over 10 million residents in the UK. Receiving this recognition is a testament to the importance and significant impact of these projects
Reston, VA (PRWEB) May 06, 2015
Tollgrade Communications, Inc., the industry leader in redefining the global standard for reliability at the world's largest electric utilities and telecommunications providers, announced today that it was named a winner in the 2015 UK Energy Innovation Awards, organized by the Energy Innovation Centre (EIC).
"Winning this award from such an esteemed panel of judges is an honor," said Edward H. Kennedy, President and CEO, Tollgrade Communications. "We are rapidly expanding our footprint through a number of smart grid projects that have the potential to touch over 10 million residents in the UK. Receiving this recognition is a testament to the importance and significant impact of these projects."
Graham Edwards, chief executive of EIC industry partner, Wales & West Utilities, said: "The increased ambition of tonight's event has been driven — first and foremost — by the exceptionally high number of quality entries that were received from the innovator community and also by the energy industry's growing desire for collaborative projects that leverage the talents, agility and innovative nature of small businesses."
With an exceptionally high number of entries in each of this year's extended list of 14 categories, entries to the 2015 UK Energy Innovation Awards were up by 43% on 2014. The shortlist included over 62 innovative technologies, projects and firms from across the electricity, gas and offshore renewables sectors.
Senior level industry leaders met to judge the submissions this year. The judges included:

Mark Horsley, CEO of Northern Gas Networks
John Morea, CEO of Scotia Gas Networks plc
Denise Massey, Managing Director at the Energy Innovation Centre
James Stacey, Head of Sustainability at Earth Capital Partners
Nick Smailes, Lead Technologist at Energy Systems, Innovate UK
Steve Edwards, Head of Regulation at Wales & West Utilities Ltd
To learn more about these awards, visit the Energy Innovation Centre website.
About Tollgrade
With more than 200 million lines under test, millions of utility outage minutes avoided annually and 25 years of experience successfully locating faults at the world's largest electric utility companies and telecommunication service providers, Tollgrade is redefining the global standard for reliability. Our award-winning fault detection hardware and predictive analytics software is deployed on four continents to help operators avoid network outages and reduce customer downtime. Tollgrade has been recognized as one of the Top 13 Smart Grid Companies to Watch in 2013 by SmartGrid News, and received Fierce Energy awards in "Substation Automation and Distribution Automation" and "Asset Management." Tollgrade was named the Smart Grid Sensor market share leader in North America by IHS Research, and has been recognized as a Platt's Global Energy Awards finalist in 2013 and 2014. To learn more about Tollgrade, visit http://www.tollgrade.com or read more about the benefits of grid modernization on our blog.
About the Energy Innovation Centre (EIC)
The Energy Innovation Centre (EIC) brings industry and innovation together to drive the discovery, development and deployment of new technologies and ideas for the electricity and gas power distribution networks, and the offshore renewable energy sector.
Its role is two-fold:

For its industry partners, the centre acts as innovation scout proactively seeking out opportunities that have the potential to benefit the energy sector, improve health and safety, benefit customers or contribute to reducing energy costs.
For small businesses, the centre acts as a gateway to industry expertise and funding.
EIC is a partnership between:
Electricity North West, National Grid, Northern Gas Networks, Northern Powergrid, Scotia Gas Networks, SP Energy Networks, SSE Power Distribution, UK Power Networks and Wales & West Utilities.
The EIC is also in partnership with the Offshore Renewable Energy Catapult.
The centre is headquartered in Ellesmere Port, Cheshire, with offices in Glasgow and London.
For further information on the Energy Innovation Centre, follow @EIC_UK or visit http://www.energyinnovationcentre.com
Tollgrade Media Contacts:
US
Kimberly Getgen
Vice President, Corporate Marketing
Tollgrade Communications, Inc.
+1 703-408-1571 (mobile)
Anne-Laure Leroyer
Marketing Communications Manager
Tollgrade Communications, Inc.
+1 202-701-0083 (mobile)
ALeroyer(at)tollgrade(dot)com
UK
Marcus Edgar
Resonates SLM Ltd
Newbury, Berkshire
t. +44 (0)1635 898 363
m. +44 (0)7810 876 077
e. marcus(at)resonates(dot)com