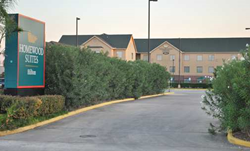 "It doesn't matter what kind of booking one wants.....we consider all our customers as Gold members."
Houston, TX (PRWEB) May 07, 2015
Greenbee Parking, a young airport parking firm, has announced all their customers using the Houston (IAH) airport can enjoy further discounts in their future bookings. Now all travelers can expect to pay much cheaper Houston airport parking rates every time they need to book a parking space before they travel. Ever since they burst into the scene, Greenbee has made a distinct impression with their innovative offers and exciting deals. What makes the young brand even more popular is that they have something great in store for all types of booking needs, long as well as short term. Even if one is booking a space at the last minute, one can expect a secure spot and great customer service to ease the usual parking pains.
"It doesn't matter what kind of booking one wants, at Greenbee we consider all our customers as Gold members," said Christine Cooper – Marketing Coordinator, Greenbee Parking. "We want to ensure that we offer the very best for each and every order that we get. It is our quality of work and our belief in doing our best that define our success. We want to convey the truth that one can get great parking spaces with ease and at very cheap Houston airport parking rates."
George Bush Intercontinental Airport Parking Information
The George Bush Intercontinental Airport (IAH) is a leading name among the three Houston airports. It is one of the busiest airports in the US as well as the world with over 50 million domestic passenger and over 8.7 million international passenger footfalls annually. Houston is a major business and financial hub which accounts for a large volume of business travel round the year. The presence of NASA and proximity to tourist hot spots like Galveston among others leads to constant tourist activity as well. It also serves as a convenient gateway airport to the Caribbean and Latin American countries. Airport authorities here have been diligently working on infrastructural upgrades to ensure a great traveler experience here. Their efforts are complemented by young companies like Greenbee Parking who have effectively opened up the parking options with their innovative deals and cheap Houston airport parking rates.
The Greenbee Airport Parking Solution
Greenbeeparking.com is the connection between consumers and parking vacancies in close proximity to major airports and seaports. The parking spaces are very affordable because the company has negotiated discounted rates with major hotel chains for the parking spaces that are not currently occupied. Here's how it works.
Greenbee Parking puts the available inventory of parking spaces on their website to be reserved by business and leisure travelers looking for cheap airport parking. This alternative method for finding parking equates to significant savings for the traveler. You can learn more about their offers from (http://youtu.be/RWc3dqhugFA)
About Greenbee Parking
Greenbee Parking is the nation's most innovative long term parking company, with a new way of making long term parking affordable. The company is rapidly adding new airports to its network.