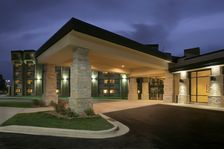 "We want to ensure that airport parking becomes synonymous with quality service and affordable pricing."
Milwaukee, WI (PRWEB) May 11, 2015
Greenbee Parking, a new and rising airport parking service, has announced that Crowne Plaza will be their new business partner in Milwaukee. This strategic partnership is among the series of similar tie-ups that they have conducted across the nation, as a part of their greater plan to change the way airport parking is viewed. Till today, it has been viewed as one of the most stressful parts of the journey but Greenbee has vowed to change all that. With this partnership, they can ensure that all customers who book a parking space with them get a secure spot for their vehicle, no matter how long they are booking it for. However, for those who are actually booking the space for a longer time, they can expect major savings in their parking and over travel expenses. With the new Milwaukee long term airport parking rates in place, parking has never been so affordable for Milwaukee (MKE) airport users.
"We want to ensure that airport parking becomes synonymous with quality service and affordable pricing at the same time," said Christine Cooper – Marketing Coordinator, Greenbee Parking. "That is why we have reached an understanding with hospitality partners like the Crowne Plaza and subsequently devised cheap Milwaukee long term airport parking rates. Now we can offer easy and secure parking options without a premium fee attached to our services."
General Mitchell International Airport Parking Information
General Mitchell International Airport (MKE) is one of the fastest growing airports in the world. It is a busy airport that connects with all major domestic cities and with key international destinations as well. With both business and tourist travel bringing in business the airport witnesses around 8 million passenger footfalls annually. Another reason why the airport keeps so busy is its proximity to Chicago. It therefore, serves as the third airport to the Windy City and accounts for much of its business travel volume. Along with the airport authority's efforts to upgrade and expand, there are now private companies like Greenbee Parking which have eased the parking woes for travelers here. The young company has made it possible to get a parking space quick and easy at very affordable Milwaukee long term airport parking rates for all.
The Greenbee Airport Parking Solution
Greenbeeparking.com is the connection between consumers and parking vacancies in close proximity to major airports and seaports. The parking spaces are very affordable because the company has negotiated discounted rates with major hotel chains for the parking spaces that are not currently occupied. Here's how it works.
Greenbee Parking puts the available inventory of parking spaces on their website to be reserved by business and leisure travelers looking for cheap airport parking. This alternative method for finding parking equates to significant savings for the traveler. You can learn more about their offers from (http://youtu.be/RWc3dqhugFA)
About Greenbee Parking
Greenbee Parking is the nation's most innovative long term parking company, with a new way of making long term parking affordable. The company is rapidly adding new airports to its network.