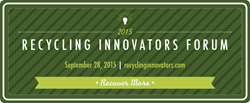 Portland, Oregon (PRWEB) May 07, 2015
Entrepreneurs with innovative ideas for bolstering the recycling industry will receive a helping hand this fall.
The 2015 Recycling Innovators Forum is seeking entries from people and organizations with actionable ideas to advance recycling.
The contest aims to support invention, originality and measurable improvements in recycling-related customer experiences, processes, technology and markets.
Up to 10 finalists will receive scholarships for travel, hotel and food for the sixth annual Resource Recycling Conference, to be held Sept. 28-30 in Indianapolis. The finalists will present their ideas to a panel of judges and an audience of investors and recycling professionals at the Recycling Innovators Forum, held on Sept. 28 in conjunction with the conference. Judges will select a winner to receive a $20,000 prize to help move the winning innovation forward.
Resource Recycling magazine will also feature finalist ideas in online and print stories read by thousands of industry professionals across North America.
The third annual Recycling Innovators Forum is made possible thanks to major sponsorships from the American Chemistry Council, Waste Management and Resource Recycling, Inc., with additional support from the Institute of Scrap Recycling Industries and the Association of Postconsumer Plastic Recyclers.
Last year, one winner was Ruby Lake Glass LLC, a company that color-coats pulverized recovered glass and uses it in a variety of applications, including bus and bike lane demarcation. Another winner was the Healthcare Plastics Recycling Council, which aims to build stakeholder coordination around recovering and recycling plastic materials from hospitals.
Anyone may apply to the contest, though previous Forum winners are not eligible.
Proposals must be submitted by June 1, 2015 for consideration. Innovators should go to the Forum website to document their interest in the contest and to see full contest details: http://www.recyclinginnovators.com.
"The recycling world is changing fast, with new materials and product lightweighting resulting in changes to recyclables entering our materials recovery facilities. The industry needs new, practical ideas to help us manage the challenges presented by these 'evolving tons,'" said Susan Robinson, federal public affairs director at Waste Management. "We look forward to supporting ideas that will improve the business of recycling and our planet's environment."
"The American Chemistry Council's Plastics Division is thrilled to help support this competition and looks forward to seeing more new ideas that will help invigorate this vital industry," said Craig Cookson, director of sustainability and recycling for American Chemistry Council's Plastics Division. "Strengthening our ability to recycle valuable plastics materials is a clear benefit to people, business and the planet."
###
Contact
info(at)recyclinginnovators(dot)com
About the American Chemistry Council
The Plastics Division of the American Chemistry Council represents leading companies dedicated to providing innovative solutions to the challenges of today and tomorrow through plastics. Ongoing innovations from America's Plastics Makers have led to medical advances and safety equipment that make our lives better, healthier and safer every day. And, advances in plastics are helping Americans save energy, reduce greenhouse gas emissions and decrease waste. Because plastics are such a valuable resource, the Plastics Division is leading efforts to "reduce, reuse, recycle and recover," including through outreach, education and access to advances in recycling technology.
About Resource Recycling
Resource Recycling, Inc. has been an independent source of recycling news, information and resources for over 30 years. Headquartered in Portland, Oregon, the company's publications include Resource Recycling, E-Scrap News and Plastics Recycling Update. The company also hosts and sponsors the annual Resource Recycling Conference, E-Scrap Conference and Plastics Recycling Conference. Visit http://www.resource-recycling.com for more.
About Waste Management
Waste Management, Inc., based in Houston, Texas, is the leading provider of comprehensive environmental solutions in North America. Through its subsidiaries, the company provides collection, transfer, recycling and resource recovery and disposal services. It is one of the largest residential recyclers and also a leading developer, operator and owner of waste-to-energy and landfill gas-to-energy facilities in the U.S. The company's customers include residential, commercial, industrial and municipal customers throughout North America. Visit http://www.wm.com or http://www.thinkgreen.com for more.
About the Association of Postconsumer Plastic Recyclers
The Association of Postconsumer Plastic Recyclers (APR) is the "Voice of Plastics Recycling." APR represents companies that acquire, re-process and sell the byproduct of more than 90 percent of the post-consumer plastic processing capacity in the U.S., Canada and Mexico. Membership includes independent recycling companies of all sizes that process numerous resins as well as consumer product companies, equipment manufacturers, testing laboratories, organizations, and others committed to the success of plastics recycling. APR advocates the recycling of all post-consumer plastic. Visit http://www.plasticsrecycling.org for more.
About the Institute of Scrap Recycling Industries
The Institute of Scrap Recycling Industries, Inc. (ISRI) is the "Voice of the Recycling Industry." ISRI represents more than 1,600 companies in 21 chapters nationwide that process, broker and consume scrap commodities, including metals, paper, plastics, glass, rubber, electronics and textiles. With headquarters in Washington, D.C., the organization provides education, advocacy and compliance training and promotes public awareness of the vital role recycling plays in the U.S. economy, global trade, the environment and sustainable development. For more information, visit http://www.isri.org.