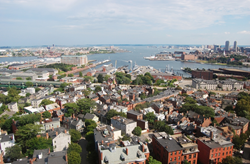 "We want to make it very easy for our customers to book a space even when they are in a hurry."
Boston, MA (PRWEB) May 20, 2015
Greenbee Parking, a new and growing airport parking brand, has just announced that all their customers who frequently use the busy Boston (BOS) airport can now expect more savings. With their latest Boston airport parking rates revealed they have become one of the most affordable parking services in the country. In the latest upgrade to their web presence, the young service provider has revealed that their innovative offers are only going to get better and the fees even more discounted. As to how they can manage it, the young company is quite clear. They have tied-up with strategic partners all over North America to ensure that there is no dearth to parking spaces even if one is booking it at the last minute. They can match the rising volume for airport parking easily and match with robust and quality service all the way.
"We want to make it very easy for our customers to book a space even when they are in hurry," said Christine Cooper – Marketing Coordinator, Greenbee Parking. "We have come up with a series of new deals for our customers using BOS so that they can avail quality service round the year at very affordable Boston airport parking rates."
Logan International Airport Parking Information
Logan International Airport serves a large area which spans across Massachusetts and greater New England. As one of the busiest airports in the US, it sees over 30 million passenger footfalls annually, a number that is set to significantly go up in 2014. It connects with all major domestic destinations as well as international cities making it a very busy airport indeed. While Boston itself is major tourist and business destination, the airport also caters to travelers targeting the greater areas of the two states. Increasing volume of business has also seen major airport upgrades in recent times. Now there are also private companies like Greenbee Parking that has joined hands with the authorities here to expand the airport parking options. With their discounted Boston airport parking rates they have made it very easy for all travelers to save on their travel and parking expenses big time.
The Greenbee Airport Parking Solution
Greenbeeparking.com is the connection between consumers and parking vacancies in close proximity to major airports and seaports. The parking spaces are very affordable because the company has negotiated discounted rates with major hotel chains for the parking spaces that are not currently occupied. Here's how it works.
Greenbee Parking puts the available inventory of parking spaces on their website to be reserved by business and leisure travelers looking for cheap airport parking. This alternative method for finding parking equates to significant savings for the traveler. You can learn more about their offers from (http://youtu.be/RWc3dqhugFA).
About Greenbee Parking
Greenbee Parking is the nation's most innovative long term parking company, with a new way of making long term parking affordable. The company is rapidly adding new airports to its network.