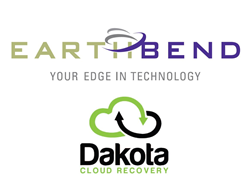 We are pleased to partner with Dakota Cloud Recovery
Sioux Falls, SD (PRWEB) May 11, 2015
Dakota Cloud Recovery, the leading provider of secured enterprise-class cloud data protection solutions for mid-size customers, expands its partnership with EarthBend, a leading IT solution provider focused on implementing best-in-class IT and cloud solutions for their customers. EarthBend will resell Dakota Cloud Recovery solutions including the new Veeam Availability Suite v8 Cloud-Connected Managed Services. This partnership brings customers in the north central region an enterprise-class secure cloud data protection solution that enhances their on-premise data backup and recovery.
The partnership ensures customer data is protected and rapidly recoverable through the following secure, cloud-managed services:

Cloud Data Protection - Provides the most secure cloud data protection solutions for backup, retention, and data recovery.
Rapid Cloud Recovery - Restores data in minutes with Dakota high-performance Cloud and on-premise recovery appliances.
Simple Managed Services – Reduces downtime and improve SLAs with EarthBend's affordable, monthly managed cloud data protection services.
"We are pleased to partner with Dakota Cloud Recovery to provide secure and affordable Cloud Data Protection for our customers," said Rob Beyer, CEO of EarthBend "We are expanding our market coverage and Dakota Cloud's Veeam v8 Cloud-Connected solution is a perfect fit for our customers."
"EarthBend has been a trusted provider of IT solutions since 1982," said Casey Parker, President of Dakota Cloud Recovery. "We are pleased to partner with them for Cloud Data Protection Managed Services and have one of our enterprise-class Dakota Cloud data centers located in Sioux Falls."
For more information about EarthBend contact us at http://www.earthbend.com
For more information about Dakota Cloud Recovery contact us at http://www.dakotacloudrecovery.com.
About EarthBend
EarthBend has been a trusted information technology provider in the upper Midwest for over 32 years. Locally owned and operated in Sioux Falls, SD and employing 67 technology professionals who support customers in the Midwest and across the United States. EarthBend provides leading edge technologies, local engineers for on-site consulting and support, and competitive pricing through its national reach. Their experienced team can provide businesses with IT computing, data storage, business phones and networking. With three decades of experience, EarthBend's proven methodologies and full suite of consulting, support, and managed services can support your organization whether big or small. Every EarthBend account executive and engineer commits to ongoing education, certification and training in order to provide the best consultation, design, implementation and support for businesses.
About Dakota Cloud Recovery
Dakota Cloud Recovery is a leading provider of secured cloud data protection solutions for mid-size customers. Our innovative monthly-managed services eliminate costly investments in storage and backup software allowing customers to take advantage of our enterprise-class cloud data centers at mid-market pricing. Dakota Cloud Recovery is passionate about customer support. Our engineers are data protection experts, an extension of your IT staff.