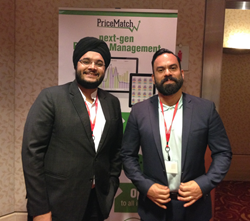 Singapore (PRWEB) May 06, 2015
Europe's fastest-growing revenue management platform for independent hotels and resorts has announced the first of several Asian hotel chains who have selected PriceMatch to automate and integrate their revenue management processes and systems.
Park Hotel Group manages over 3,500 rooms in key Asian gateway cities including Singapore, Hong Kong, Thailand, Indonesia and Japan. Established in 1961 with their first hotel in Hong Kong, Park Hotel Group offers the Grand Park luxury brand and Park Hotel upscale brand carefully crafted to suit business and leisure travellers.
"Park Hotel Group is committed to using technology that enables our hotels to maximize market share through enhanced total revenue per available room performance. The PriceMatch solution is an important element of our revenue management strategy and enables our revenue managers to have smart, relevant and actionable data on easy to review cloud-based dashboards. The solution is user friendly and provides real time intelligence to our revenue and sales & marketing teams.- Tejveer Singh Bedi, Group Director Revenue –Park Hotel Group".
"Park Hotel Group operates luxury and upscale hotels in hyper-competitive Asian hotel markets. Today's modern revenue manager has a huge burden to navigate across multiple technology platforms such as Opera, SynXis and SiteMinder. For Park Hotel Group, we delivered a holistic, seamless and integrated revenue management solution across all PMS and distribution platforms. With PriceMatch, Park Hotel Group has a significant competitive advantage with 365 day forecast, price optimisation, local events and competitor pricing all embedded within the PriceMatch platform", added Erik Munoz, Chief Marketing Officer at PriceMatch.
***
About Park Hotel Group:
Park Hotel Group is one of Asia Pacific's best hospitality groups. The Group manages, owns and develops Park branded hotels around the Asia Pacific. Established since 1961, Park Hotel Group grew rapidly from its first hotel in Hong Kong to the current portfolio of 12 properties across five countries and eight cities in the region, with access to over 3,600 rooms.
Committed to delivering exceptional service with love and passion, the acclaimed Park Hotel Group has established a track record of operating successful hotels. As it strives to be a world-renowned brand in hospitality, Park Hotel Group continues to focus on its footprint expansion through acquisitions and hotel management services.
Park branded hotels include the luxury Grand Park and the upscale Park Hotel.
Grand Park is a luxury hotel and resort brand synonymous with premium accommodation, facilities, service and comfort designed for discerning business and leisure travellers. Grand Park hotels can be found in Singapore, China and Japan.
Park Hotel is an upscale hotel and resort brand symbolising utmost convenience, personalised services and high standards of amenities carefully crafted to please business and leisure travellers. Park Hotels can be found in Singapore, Hong Kong, Indonesia and Thailand.
Park Hotel Group's portfolio of properties comprises:
Singapore

Grand Park Orchard
Grand Park City Hall
Park Hotel Clarke Quay
Park Hotel Alexandra (2015)
Park Hotel Farrer Park (2016)
Indonesia

Park Hotel Nusa Dua Bali (2015)
Thailand

Park Hotel Khao Lak Beach Resort Phang Nga (2015)
Hong Kong

China

Grand Park Xian
Grand Park Wuxi
Grand Park Kunming
Japan

For more information on Park Hotel Group, please log on to parkhotelgroup.com
***
About PriceMatch:
PriceMatch provides an innovative and easy-to-use revenue management solution designed for both hotel managers and experienced revenue managers. Using big data and advanced econometric tools, the PriceMatch algorithm provides pricing recommendations through an extremely user-friendly website. Our account managers and engineers guarantee every hotel a personalized assistance to optimize their RevPar.
More info at https://www.pricematch.travel/en