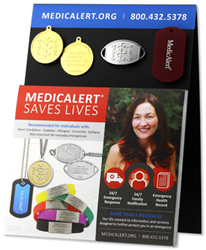 We are most grateful to our nation's physicians who serve as our front-line partners in educating patients about the importance of medical IDs
Turlock, CA (PRWEB) May 06, 2015
MedicAlert Foundation has announced the release of its new medical ID display program which is free to physicians and hospitals. MedicAlert pioneered the medical ID industry 58 years ago and continues to be the most recommended provider of medical identification and 24/7 emergency response services. Physicians trust MedicAlert to provide around-the-clock services for their patients who wear medical IDs for a variety of reasons including: Diabetes, Heart Conditions, Autism, Dementia, Epilepsy, Allergies, and Implanted Devices. The medical ID displays feature sample medical IDs and a tear-off enrollment sheet, offering physicians the opportunity for an in-office recommendation, and giving patients take-home information about how to purchase a medical ID via online or postal mail.
"We are most grateful to our nation's physicians who serve as our front-line partners in educating patients about the importance of medical IDs," says Dan McCormick, president and chief executive officer for MedicAlert Foundation. "Our physician partners have been critical to the success of MedicAlert as their recommendations of our products and services are vital for patients who are vulnerable to potential medical errors that may occur during an emergency if medical information is unknown." MedicAlert medical IDs provide for quick recognition of medical conditions, allergies, medications, or treatment wishes; this leads to faster and more effective medical treatment. MedicAlert medical IDs also reduce treatment errors which may result from not having a patient's health record during an emergency situation or upon hospital admission. First responders and medical personnel are trained to first look for medical identification jewelry in an emergency and then contact MedicAlert's 24/7 emergency response service to obtain their patient's full health history.
Physicians and hospitals may order the MedicAlert displays for their waiting rooms, individual patient rooms, or both, by visiting http://www.medicalert.org/display. MedicAlert medical ID displays are complimentary and will be shipped at no charge to the physician or medical facility.
About MedicAlert Foundation
Established in 1956, the nonprofit charity MedicAlert Foundation pioneered the use of medical ID products and delivers the most dependable, responsive, and trusted Emergency Identification and Medical Information Network. MedicAlert provides the functionality of an e-health information exchange through an innovative combination of a unique patient identifier linked to a personal health record and a live 24/7 emergency response service. MedicAlert Foundation International medical ID products alert emergency personnel to a member's primary health conditions, medications or other critical information. In addition to its 24-hour emergency response service, MedicAlert Foundation International also provides family and caregiver notification so that members can be reunited with their loved ones. Visit http://www.medicalert.org for more information.