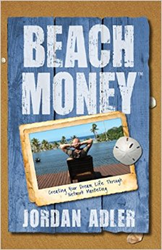 Jordan Adler has written a book which should be read for ANY and ALL Network Marketers! It should even be read by those even thinking of getting into the business so they will know what is expected of them.
(PRWEB) May 07, 2015
When picturing an ideal job, so many people dream of a lifestyle sitting on the beach, relaxing, while they make money. To some, this is a complete fantasy that they could never even believe, but Jordan Adler has created this life for himself and also teaches others how this could become a reality for them too.
In his book Beach Money, Jordan uncovers the secrets to success in network marketing so that anyone can learn how to compress a 30-year career into just 3 to 5 years. He shows people how to design their lives not around their work schedules, but around their free time, turning their yearly income into their monthly income by taking advantage of opportunities that throw off residual income.
Currently, Jordan has begun a new program in order to reach out to college students and teach them early on how they can become successful in network marketing. He has been giving away $1000 worth of Beach Money books a month to network marketers who will book a talk marketing talk at a college or university marketing or communications course. Since February, he has managed to give away over 180 books to college students and is currently booked until the end of May. The college students are loving the program and anyone who's interested can check his fan page on Facebook to see some testimonials from those who have benefited from this endeavor!
https://www.facebook.com/beachmoneyclub
Instructors looking to participate in this program should email Jordan with the proposed date and time the distributor is scheduled to speak, their topic for the talk, the name and address of the university, as well as the number of the students in the course. Once the email has been received, Jordan and his team will review it and determine availability for the requested month. Jordan wants to meet as many young students as he possibly can in order to help them figure out how to make the most of their futures and become successful in the business world.
Jordan Adler:
Jordan Adler is an entrepreneur, coach and author who has helped hundreds of individuals become successful. Today, he leads a team of over 150,000 distributors within his marketing organization, and continues to grow a successful organization worldwide. He believes that anyone can compress a 30-year career into just 3 to 5 years by shifting their focus and learning some simple skills. He also wants to give back, so he participates in a program to loan money to entrepreneurs desiring to start businesses in impoverished and developing countries around the world. 100% of the profits from his book go to an organization called Kiva (http://www.kiva.org) to help fund these loans. To date, Jordan has helped over 1500 entrepreneurs in developing countries start businesses. Jordan looks for individuals who are ready to change their life and trade in a lifetime of work for a life of their dreams. He asks the question, "Are you working to pay your bills or are you working to live your dreams?The answer to this question will determine your future."