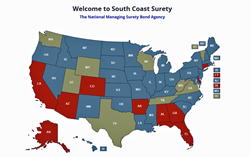 thanks to the confidence placed in South Coast Surety by its partner Surety Companies, South Coast Surety has become one of the largest National Managing General Underwriting Agencies in the United States
San Clemente, California (PRWEB) May 11, 2015
It was 20 years ago today that South Coast Surety first began operations in San Clemente California. The Surety Bond Only Agency began as a small Contract Surety Bond office that worked with local contractors of all sizes in procuring and servicing their construction bonding. Their initial accounts included general contractors, specialty contractors and large publicly traded supply and install accounts servicing the South California territory.
In just a few years South Coast Surety began working with local Insurance Agents in a Wholesale Surety Agency capacity, providing surety support for contract and commercial bonds on account and transactional requests. Due to growing demand, South Coast Surety soon expanded to a national platform, handling a large volume of transactional commercial surety bond applications through its licensing in all 50 states.
Now, thanks to the confidence placed in South Coast Surety by its partner Surety Companies, South Coast Surety has become one of the largest National Managing General Underwriting Agencies in the United States. With some of the largest underwriting authority in the industry, South Coast Surety Directly approves both Contract Surety and Commercial Surety in all 50 states.
The administration of South Coast Surety has expressed its gratitude to all of the Surety Companies, Direct Accounts, Insurance Brokers and its surety staff that provided the relationships and efforts to help the surety agency grow over the last two decades to this success. The principal owners of South Coast Surety, Steven and Nicki Swartz, specifically thanked all for their support and remarked how they are looking forward to more decades of growth and success.
As a National Surety Managing General Agency, South Coast Surety provides the largest range of surety products for insurance brokers and direct accounts. They only write surety, assuring that they have the right in-house underwriting authority and surety carriers to produce the needed surety support.
The Staff at South Coast Surety are Specialists in a large variety of surety bond types. Their surety programs include surety support for preferred, standard, sub-standard and non-standard surety bond applicants.