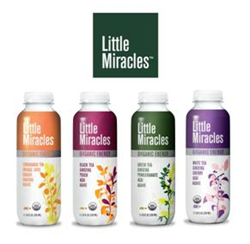 London, England (PRWEB) May 06, 2015
The beverage industry has grocery and natural food stores exploding with new drinks. Little Miracles organic tea and superfruit fusions stands out among all of them. Powered by natural Panax ginseng and sweetened with agave, these delicious juice blends are making a splash in the popular consumer movement that seeks healthier ways to hydrate.
In collaboration with National Beverage Day on May 6, Little Miracles invites people to raise a bottle of Lemongrass Tea and Ginseng, Black Tea and Peach, Green Tea and Pomegranate or White Tea and Cherry and join in the festivities to drink better for the body. Little Miracles is asking customers to share photos of their favorite Little Miracles flavors on social media to spread the word of healthy, delicious hydration.
With recent media attention creating a public perception that sugary, artificial ingredient beverages are harmful and a primary culprit for obesity, Little Miracles offers a solution for people to lessen the amount of artificial ingredients and added sugars they consume. With only 90 calories per bottle and all organic ingredients, Little Miracles is the perfect choice to honor National Beverage Day and keep hydrated all summer long.
"Bad ingredients are clearly labeled on popular energy drinks and sodas, yet people continue to drink them out of habit and because they think they taste good," said Bob Groux, U.S. CEO of Little Miracles. "Not only do Little Miracles taste great, they break bad habits and give people a natural boost. They're the next best thing since water!"
Experts recommend drinking at least 3 liters of fluid a day for men and 2.2 for women*. This summer, meet these expectations, and say no to soda or energy drinks and yes to Little Miracles.
Little Miracles can already be found on the east and west coast, including New York and Los Angeles, in stores like:
West Coast
Sprouts
Fresh & Easy
Andronico's
Draeger's Supermarket
Oliver's Market
Whole Foods – Pacific Northwest
Mother's
Lassens
East Coast
Shaw's
Stop & Shop
Giant stores
Kings
*http://www.food.com/food-holidays/beverage-day-0506
For more information about Little Miracles, visit DrinkLittleMiracles.com. For interviews or product samples, please contact the names listed at the bottom of the release.
About Little Miracles
Little Miracles, headquartered in London, is a global organic beverage brand with distribution in 25 European countries and in the U.S. Its full line of organic superfruit juice blends were developed with consumer health and well-being in mind. Made with carefully selected Panax ginseng in its purest form and sweetened with organic agave, all Little Miracles beverages are 90 calories per bottle and free from artificial colors, flavors and sweeteners.
MEDIA CONTACTS:
Alexandra Salazar
McFadden/Gavender
O: (520) 882-6262
M: (520) 820-9948
alexandra(at)mcfaddengavender(dot)com
Christina Thompson
McFadden/Gavender
O: (520) 882-6262
M: (623) 229-2597
christina(at)mcfaddengavender(dot)com
Website:
DrinkLittleMiracles.com
###