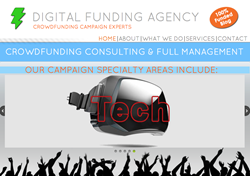 Michael Cameron, co-founder of Digital Funding Agency saw a need for a crowdfunding agency that fully executes every aspect of these campaigns from inception to completion, not taxing their client's organization's valuable resources
Carlsbad, CA (PRWEB) May 06, 2015
Many new and established companies already know about the advantages of launching their product or project with a crowdfunding event. However, the barrier to entry is more significant than it appears. To pull off a successful large scale campaign it takes a dedicated team working full-time, and expert knowledge of crowdfunding and the digital space to produce the results you typically see for large campaigns. This is where Michael Cameron, co-founder of Digital Funding Agency saw a need for an agency that fully executes every aspect of these campaigns from inception to completion, not taxing their client's organization's valuable resources, leaving them to focus on what they do best, their core business.
Cameron says he noticed a gap in the services that were being offered by the major agencies, and the level of expertise in key areas was also lacking. Most agencies he came across were primarily advisory, providing information and best practices, leaving the client to handle the heavy lifting of communications, design, hands-on management, PR and social media among tasks too numerous to list.
No other agency currently holds the experience working at the level of Digital Funding Agency. Cameron's background has seen him managing social media and the digital presence for many of the largest studios in Hollywood, including the promotion of blockbuster films for Warner Brothers and Lionsgate, Cameron was in charge of building and managing social media profiles upward of 23 million followers. His work on a highly original Tumblr designed to help promote the release of Hangover 3 was nominated for a Shorty Award. Some of his earliest experience was in music journalism writing for the acclaimed on-line publication Pitchfork.com during it's breakout years, with Cameron's contributions helping to establish the voice that has made it one of the most successful on-line blogs, with an audience in the millions. In addition, he managed Stone Brewing Co.'s record setting Indiegogo crowdfunding campaign, raising over $2.5 million dollars.
Cameron says "I was inspired by the world of crowdfunding and the potential good that could be done working in this industry." "A crowdfunding campaign is an exciting event that brings awareness to a cause or project, has the benefit of sustaining engagement and builds a social bond of community with supporters, it provides useful feedback on a project, and raises funding." He goes on to say " It is democratizing funding, leveling the playing field, giving new opportunity for creative useful ideas to be brought forth." The Digital Funding Agency vision for the new model of a crowdfunding agency is clear, providing full service, excellent value and maximum ROI for marketing dollars spent.