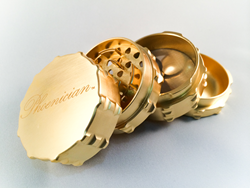 "We are grateful to our amazing team, customers and investors who are the reason we are one of the few cannabis industry start-ups achieving profitability in our first year." Justin Cifelli, CEO
Phoenix, Arizona (PRWEB) May 06, 2015
Mesa, Arizona (PRWEB) May 6, 2015 - FOR IMMEDIATE RELEASE
Med Ag Ventures, Inc. (MAV), an investor backed Colorado cannabis industry company, expanded manufacturing capacity of its Arizona based Phoenician Engineering subsidiary three times since first producing proprietary herb grinders last September. MAV recently achieved profitability from operations, within one year of start-up. MAV's reseller network expanded from 100 at the end of 2014 to over 500 today through exposure at Cannabis trade shows like Champs, American Glass Exposition, and Cannabis Cups. MAV's proprietary products have secured their place among the best of the best in the medical marijuana industry and lead in setting a medical grade standard for ancillary cannabis products.
Paving the way for continued growth, MAV expanded its intellectual property portfolio and now owns what is believed to be one of the most valuable and diverse portfolios of patents and patents pending protecting its innovative herb grinders and other products in its growing pipeline.
Justin Cifelli, CEO of MAV states, "We are deeply appreciative of our investors, our team and our customers who make our rapid growth and success possible. We are focused on delivering long-term value to both customers and shareholders." VP and Director of Engineering Dane Dukat adds, "We listen to our customers and incorporate their feedback in new product launches. The metrics speak for themselves - demand has never been higher and is accelerating." COO Colton Dukat adds, "We are staying humble and working hard to deliver the best products and the best customer experience. Our responsibility to effectively manage growth and demand goes well beyond our products, supply chain or capacity; it starts and ends with our growing strong team of dynamic and very talented individuals."
ABOUT MAV:
Med Ag Ventures Inc. of Colorado is an emerging growth company part of the booming medical cannabis industry. We manufacture proprietary ancillary products for consumers, growers and marijuana dispensaries. The Cannabis industry is reported to be the fastest growing industry in the US.
FOR MORE INFORMATION:
Visit http://www.MedAg.Ventures
Tom Cifelli, CFO & General Counsel
602-677-7578
###END ###