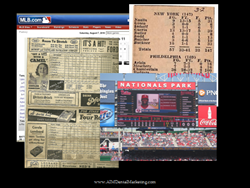 Master telephone communicators consistently bat 900, meaning the team member 'connects' with 9 of 10 'pitches' thrown.
Chicago, IL (PRWEB) May 12, 2015
When a dental marketing consultant, whose bread and butter is getting a practice's phone to ring, emphatically states that most practices should stop investing in marketing because they can easily triple their rate of new patient conversion without it, it warrants attention.
"It's all about box scores." says Daniel A. Bobrow, 57, a 35 year dental marketing veteran, whose pedigree includes MBAs from both the University of Chicago Graduate School of Business and K.U.L., Belgium.
"In the nearly 26 years we've worked with dental practices, it has become increasingly apparent that one of the best ways to ensure a low return on ones marketing investment is to pay for leads fed to a Team that has yet to, as we like to say, master the art of first impressions."
For the uninitiated, the term 'box score' refers to a collection of vital statistics that are used to measure a Team's performance at a point in time, as well as its progress over time.
While each industry may have its own unique set of criteria for measuring and monitoring its success, there are some vital statistics that are shared by nearly all businesses, including dental practices.
In keeping with the sports theme, the vital statistics shared by nearly all businesses are termed Runs, Hits, and At Bats, and comprise a practice's Business Box Score.
Most Americans are familiar with what these mean in the world of baseball.
But what about in the context of the dental practice?
An at bat is a communication with a prospective patient. A hit is successfully connecting with that prospective patient and converting them into an actual patient, and a run refers to the value of that Patient to the practice.
Just as with baseball, box scores are used by (practice) management, team members, and yes, (if your practice has a Facebook Page), even fans, to measure and monitor its performance and progress.
One can be satisfied to assume a passive role, and simply use their box score to merely observe how a Team is doing. That's what a company's investors do. They can only watch the stock price and its trend. The extent of their control is limited to 'voting with their wallet,' to choose to buy, hold, or dump the stock.
But management is concerned with more than simply observing - they're in business to take action, to improve their teams performance.
Not Knowing What You Don't Know Can Be Costly
What practices have needed (many without knowing it) is a tool for accurately and consistently capturing the necessary data for measuring and monitoring their dental team's box score, to reliably calculate the teams batting average, as well as the average value of a patient to the practice.
For example, if a practice receives 100 unique calls from prospective patients, and the Team successfully converts 30 into patients, the Team Batting average is 300 (300/100). Bobrow explains that "While a batting average of 300 is considered pretty good in the major leagues, in the world of telephone skills, it's bush league. Master telephone communicators consistently bat 800-900, meaning the Team Member 'connects' with 8 to 9 of every 10 'pitches' thrown."
Teams with a batting average of 900 will convert those same 100 calls into 60 additional (90 in total) patients. Multiplying that number by the value to the practice of an average patient* drives home just how much money a practice may be losing for every 100 leads it receives. This is what Bobrow calls The Performance Gap.
"Many practices do not concern themselves with this financial hemorrhage because they don't know what they don't know - but not knowing makes it no less costly to their bottom line."
Capture The Data and Customize The Coaching
In response to this, Bobrow and his company AIM Dental Marketing have created a new service called CallTrackDNA™, which helps businesses to 1. identify the problem and 2. use the data to craft a custom coaching curriculum for Team Members whose responsibility, in part or whole, it is to handle inquiries from prospective patients.
The Call Center listens to all calls the practice receives from a prospective patient and calculates the team's batting average as a whole, as well as that of the individual team members. The results are then compared to what is considered an acceptable/desirable batting average. The data are also used to identify any specific challenges faced by individual Team Members so the coaching can be customized to address those specific challenges.
"It's analogous to a hitting coach who video records a batter's swing and notices she has no trouble hitting a fast ball, but a slider is another matter." says Bobrow.
Home Runs
In the world of dental marketing and lead tracking, not knowing what you don't know can be very costly indeed. Conversely, taking a few simple steps to calculate and monitor your practice's Box Scores can literally triple your new patient flow without investing a single extra dollar in marketing. And you can literally take that to the bank.
*ADM's client measures (from 4/11 through 12/14) have determined an average annual patient value to be in the $500-$1500 range with average lifetime being 8 years and total life value to be $5000-$15000. To calculate your own statistics contact ADM at 1-800-723-6523 or CLICK HERE