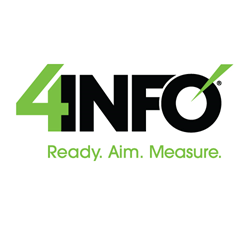 As brands realize real sales results from 4INFO's patented technology, we are expanding our capability to provide the most accurate data to measure mobile campaigns based on what really drives decision making—in-store sales lift.
San Mateo, Calif. (PRWEB) May 06, 2015
4INFO, the fast-growing technology company solving the challenge of mobile attribution, today announced it has signed seven new partners to further expand the firm's leadership in providing national brand advertisers access to data with unprecedented scale and accuracy in mobile. Agreements signed over the past few months include consumer data providers, ad effectiveness measurement solutions, and inventory partnerships that leverage 4INFO's patented mobile technology to precisely deliver targeted advertising to 152 million mobile devices tied to 101 million U.S. households in a privacy-protected manner.
New data measurement partnerships leverage 4INFO's ability to tie mobile ad impressions to unique households to measure campaign sales lift. The company recently signed consumer data targeting and measurement partnerships with industry leaders, including:

Experian Marketing Services
Datamyx
Nielsen (Nielsen Buyer Insights)
4INFO also signed inventory exchange partnerships, including:

Rubicon Project
PubMatic
Smaato
Amobee
"Success for national brands in mobile and cross-channel advertising relies on their ability to reach the right customer with the right message with the scale they require, while being able to measure and achieve the right results," said Tim Jenkins, CEO of 4INFO. "As brands realize real sales results from our patented technology, we are expanding our capability to provide the most accurate data to help them hit the bullseye and be able to measure mobile campaigns based on what really drives decision making—in-store sales lift."
As one of the industry's leaders in providing unparalleled scale in mobile, having used its patented technology to accurately match more than 152 million mobile devices to over 101 million U.S. households, or nearly 100% of the U.S. smartphone user population, 4INFO is aggressively expanding its capabilities to meet its rapid growth. Leading brands — include eight of the top CPG brand advertisers — are now tapping 4INFO's powerful technology that sees more than 120 billion ad requests monthly.
Through 4INFO's AdHaven Bullseye platform, 4INFO delivers the most sophisticated mobile solution available using actual household purchase data to provide true precision targeting. While adding new partners, 4INFO maintains ongoing data partnerships with Acxiom, Nielsen Catalina Solutions, Speedeon, Datalogix and more (for complete list of 4INFO's partners click here). By partnering with the most trusted data and measurement providers, 4INFO ensures its brand advertisers have access to the precise, purchase-based data they need to accurately target cross-channel campaigns with the ability to tie ad impressions to measure what matters most: sales lift.
About 4INFO
4INFO is a fast-growing mobile technology company solving the mobile attribution challenge for national brand advertisers to measure the ROI that matters most: sales lift at the cash register. A privately-held company, 4INFO's brand ad revenue has tripled consecutively since 2012 — and continues to experience exponential growth. Leading brands — including 8 of the top 10 largest CPG companies, 6 of the 10 largest retailers, and 5 of the largest auto manufacturers — rely on 4INFO's unparalleled scale and experience to deliver their mobile and cross-channel campaigns. 4INFO's patented technology ties mobile devices to more than 90 percent of U.S. households. 4INFO's flagship product — AdHaven Bullseye — enables advertisers to target consumers with the same precision as online and direct mail advertising. AdHaven Bullseye anonymously matches mobile device data to household-level purchase data providing the ability to measure actual sales results from a mobile ad spend. Launched in March 2013, 4INFO's AdHaven Bullseye has already powered more than 300 mobile ad campaigns for more than 200 national brand advertisers with impressive accuracy and results: ROI averaging 257% and as high as 1000%, and market share increases at the expense of competitors. 4INFO collaborates with the most trusted 3rd party data providers of purchase and lifestyle data — including Acxiom, Experian, Nielsen, and Nielsen Catalina Solutions. On the forefront of mobile innovation since 2004, 4INFO is headquartered in San Mateo, Calif., with offices in New York, Los Angeles, Chicago and Boston. Learn more at http://www.4INFO.com.
Follow 4INFO:
Website: http://www.4info.com
Twitter: https://twitter.com/4INFO
Facebook: https://www.facebook.com/4INFOInc
LinkedIn: https://www.linkedin.com/company/4info?trk=top_nav_home
Google+: https://plus.google.com/+4info/posts
###