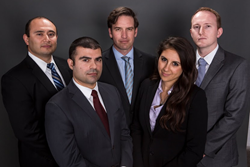 This is a case where the underdog has to win
Los Angeles, California (PRWEB) May 20, 2015
According to leading infrastructure experts, America's infrastructure is failing. The American Society of Civil Engineers (ASCE) recently gave America's infrastructure a D+ rating and estimated an investment of $3.6 trillion in investment needed by 2020 to fix this rapidly deteriorating problem. (http://www.infrastructurereportcard.org/)
"This is a scary situation living in Los Angeles. About 90% of our water is imported. I'm concerned about how our imported water supply infrastructure will hold up in a large earthquake. Nobody wants a catastrophe, but it doesn't feel like we're preparing ourselves for the inevitable," Sabrina Rivera a Civil Engineer working within Los Angeles County said.
Fed up with the lack of Government response a group of Civil Engineers have formed a Political Action Committee (PAC) called Civil Engineers For Infrastructure (CE4I) to address this problem. "In truth, the responsibility lies with Civil Engineers; we already have the knowledge to raise the red flag. We already understand the situation. What we need to do is get political leaders to stop ignoring it," stated Serge Haddad Civil Engineer and a CE4I Director.
The goal of this PAC is to support candidates and elected officials that have a strong track record of prioritizing infrastructure investment opportunities and to oppose those that show little to no support for infrastructure development.
America's current investment into infrastructure is only 2.4% of America's GDP. To put it into perspective, 19% of America's current GDP is spent on military and defense. So little is spent on infrastructure because very few groups lobby politicians and legislators into action. (http://www.economist.com/node/18620944)
"When you have lobbyists such as private defense contractors and financial institutions with deep pockets influencing policy; it's hard for Civil Engineers to raise awareness for something as unglamorous as infrastructure, but it's time that things change and we want to champion this effort. This is a case where the underdog has to win." Erik Hoffman, CE4I director, told us.
If you would like to learn more or contribute please visit:
http://www.ce4ipac.com