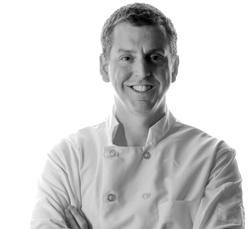 As a chef, there is nothing better than cooking for the ones you love.
Reading, PA (PRWEB) May 07, 2015
Mother's Day is just a few days away and everyone is busy preparing for the best way to celebrate mom. While many people look for gift certificates to spas, there is just something about a home-cooked meal and spending time with family that makes Mother's Day special.
"My family sat down for dinner just about every night growing up. As a chef there is nothing better than cooking for the ones you love," says Brian Huston, BlueStar® All Star Chef. Brian Huston is the head chef and owner of Boltwood in Evanston, IL. He previously served as chef de Cuisine of The Publican, in Chicago before opening his own restaurant. The Evanston, Illinois native boasts a solid career of building on classical culinary training, including stages at some of the country's finest restaurants.
Huston shows his appreciation for the moms in his life – his wife and mother – by creating special meals for them. Huston starts the day with his wife's favorite breakfast, an everything whole wheat bagel with black bean spread and avocado as well as some Chemex coffee with cinnamon, honey and cream. For dinner, his mom's favorite dish that Chef Huston makes is a traditional favorite, tomato and mozzarella salad, but Huston adds his own twist with watercress and a homemade cilantro dressing. And despite being a James Beard-nominated chef, Huston said his mom still makes the best soups, especially her American Minestrone.
BlueStar® All Stars are a collection of chefs, critics and interior designers who are passionate about achieving restaurant quality results at home. Says Chef Huston, "I think of BlueStar as the Apple computer of the stove world. The simplicity in the manufacturing of the products makes them straight forward and easy to use. I also love the sleek design and cool colors." Chef Huston's BlueStar® Platinum range is a bright traffic yellow.
Handcrafted in Reading, Pennsylvania, BlueStar® cooking products are designed for discerning home chefs who demand restaurant-quality results in their own kitchens. Our commitment to precision in form and function is why many top chefs consider BlueStar® to be the world's top-performing residential cooking equipment. For more information visit http://www.bluestarcooking.com.
Wow mom on her special day with this homemade American Minestrone. Want more to accompany the meal? Check out the BlueStar® blog for more recipes from BlueStar® All Star chefs.
American Minestrone
1 cup celery, chopped
1 medium onion, chopped
1 carrot, sliced
1 clove garlic, minced
2 T olive oil
Sweat ingredients together
Add
2 16 oz can of whole tomatoes, crushed
2 18 oz can of baked beans
1 16 oz can tomato paste
2t parsley, minced
3 quarts of water
1 T salt
3T sugar (optional, my mom puts sugar in everything)
1t dry oregano
1/2t dry basil
Simmer all ingredients together
Meatball Mixture
1 ½ lbs ground beef or turkey
3/4 cups breadcrumbs
1/2 cup grated parmesan cheese
2 T parsley, minced
1/2t pepper
1 egg
1 onion, minced
1 clove garlic, minced
2t salt
Mix by hand and tear into simmering stock
Serve with 10 oz spaghetti broken into thirds and cooked. Divide evenly in bowls
Don't add spaghetti to soup as it will absorb too much of the liquid.
###
BlueStar®, Unleash Your Inner Chef™
Handcrafted in Reading, PA since 1880, BlueStar® cooking products are designed for discerning home chefs who demand restaurant-quality results in their own kitchens. The BlueStar® product line features high-performance gas ranges, cooktops, wall ovens and hoods. BlueStar's unique performance features include an open gas burner system that produces up to 25,000 BTUs of cooking power, precise 130 degree simmer burners, and oversized convection ovens with professional-grade infrared broilers. Available in over 750+ colors and finishes, and with almost infinite configuration possibilities, BlueStar® premium cooking products offer virtually unlimited personalization options. For more information, please visit http://www.bluestarcooking.com.