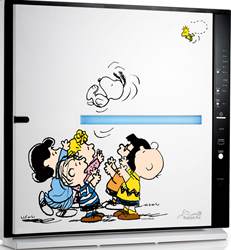 Now air purifiers not only are practical but also entertaining and appealing too. Same high quality filtration with a little pizzazz too.
Peoria, IL (PRWEB) May 12, 2015
USAirPurifiers.com, a Midwestern firm specializing in high quality home and commercial air purifiers, has announced this week that it will now be carrying the Rabbit Minus A2 Peanuts with Snoopy special edition air purifier. This model has been specially licensed to depict classic "Peanuts" characters like Snoopy in either of two different formats.
This special edition models come with the same high quality features and functionality as the standard Rabbit A2 model, which is well known for its reliability. This air purifier operates almost silently, and comes with a standard 5 year warranty. Offering multiple fan speeds, a pollen eliminating filter, and wall mounting capability, the A2 offers flexibility and quality in a compact residential air purifier.
The special "Peanuts" model is available in two different designs. The first shows the entire core cast of the "Peanuts" gang, and the second depicts the two classic animal characters, Snoopy and Woodstock, along with the cartoon beagle's iconic dog house. Both models come in a range of sizes and filter configurations. Depending upon the options selected, prices range from $499.95 to $589.95 at USAirPurifiers.com.
About the Business:
Barb and Dick Lulay's customers are passionate about naturally reducing their risk of disease. Their customer service and product expertise make shopping with http://www.USAirPurifiers.com and http://www.OttersDream.com an ideal experience. With a full line of natural products such as air purifiers, natural supplements, green cleaners, weight management and paraben free skin care, families find they can conveniently do their household shopping online with home delivery. As successful business owners, the Lulays offer a mentoring program for other aspiring entrepreneurs. They present exceptional marketing tools and a training program that shows how to generate immediate income as well as long term passive income.