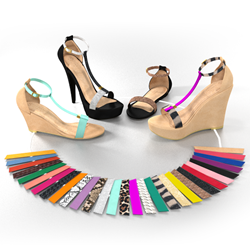 "It's the best concept we've ever seen in the shoe industry!" Cosmopolitan magazine
Gold Coast, Australia (PRWEB) May 11, 2015
Revolutionary Australian based footwear company Conf3ess has gone global with the announcement of international distribution for its inventive, stylish, interchangeable strap hi-chic shoe system that's changing the fashion footwear game forever. The future of online shoe shopping has changed forever.
For the uninitiated, the revolutionary flats to women's high heel shoes, replaceable-strap on trend must-haves of the year have fundamentally changed the way women can buy, store and outfit-match shoes as well as save a great deal of money.
Largely driven through online platforms, the global focus was a natural extension for the lightweight, space spacing shoes that are easy to freight and with a user-friendly online design tool for clients to select various designs, style and colors prior to purchase.
Conf3ss Creative Director and Founder Michelle Noordink said that the modular, multifunction aspect of the shoe design was merely one aspect of the range's popularity.
"We wanted to produce a high quality, on trend shoe, that met with the modern needs of busy women, travelled well and was also a time and money saver," Ms Noordink said.
"The entire range represents less than $400 for which you can have more than 26,000 design variations of shoe to suit every possible occasion which is obviously a plus.
"But we don't compromise on quality or style and in seconds you can reliably update your shoes with just one or two adjustments to heels and straps to whatever you're wearing, comfortably and quickly and still look fabulous," she said.
Ms Noordink said the pace at which the business was growing since it's launch in late 2014 was exciting and that the foundations of the company had truly sprung from a light bulb moment.
"I was at a lunch and noticed all the women wearing the same type of shoe with with similar toe strap and ankle straps but they were all different heel heights and colors," she said.
"It was literally an idea born that day and I went away drafting the first designs – from there we've built the brand to the current range and it's an evolving process as each season brings new colour and fabric trends."
International reach has led to plans for extending the line as various fabrics, colors and seasonal trends around the world continue to influence and evolve the range.
For more about Conf3ss and the latest pop up shop dates please visit http://www.conf3ss.com and http://www.pinterest.com/Conf3ss.
What they're saying about Conf3ss:
CLEO - "Conf3ss was voted #1 on the Cleo List for the Hottest Products."
DOLLY Magazine – "Conf3ss shoes have revolutionised the way we walk."
COSMOPOLITAN – "It's the best concept we've ever seen in the shoe industry!"
The Conf3ss range provides four beautifully crafted styles and a vast, colourful assembly of snappy interchangeable straps to create hundreds of different looks in an instant.
With four styles of womens high heel shoes and flats and dozens of designer straps on hand, they represent hundreds of shoes that essentially can fit into a handbag and are also exceedingly comfortable with extra padded lining and therapeutic magnets for extra comfort.
Catering to casual, pandering to playful or glamming up to go to out for dinner the clever, the stylish shoes save time and space at home and travelling. Never again will anyone agonise over which shoes to take and which to leave behind as well as being able to match shoes with any outfit, mood or personality in an instant.
Conf3ss offers a 365-day money back guarantee and free shipping and return policy with full refunds available according to T&Cs for dissatisfaction, discomfort or incorrect sizing.
RRP $69.95 - $89.95 including 3 sets of straps, free shipping & returns (Within Australia & USA), 365 day warranty.