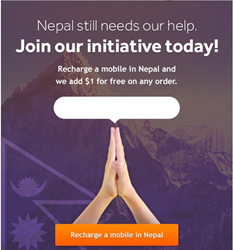 Atlanta, Georgia (PRWEB) May 08, 2015
"A friend in need is a friend indeed", people say. MobileRecharge.com & TransferTo decided to send a helping hand to their Nepalese customers by offering them the possibility to send more credit to their family & friends in Nepal. Thus, for every mobile top up sent to Nepal, MobileRecharge.com and TransferTo add $1 extra.
Critical situations point out how important reliability is, not only between friends but also for services. Trust, support and the natural desire to help were the main factors that led MobileRecharge.com & TransferTo to become partners in the most difficult situations, such as the hard times Nepal people have been experiencing since the devastating earthquake that hit the country on April 25th.
The earthquake took the lives of over 7,000 people and caused severe material damages, leaving more than 3 million people in need and no one can yet anticipate the real proportion of the disaster. That's why every helping hand matters.
In order to strengthen family and friends relationships, communication means must be easy to use and affordable. That's why MobileRecharge.com and TransferTo designed this special promotion, conveying care and facilitating communication. So, for every international top up sent to Nepal, MobileRecharge.com and TransferTo will send another $1 bonus. This means for $5 sent, the receiver will get $6. Or for $11 sent, the receiver will get $12. Ncell, Nepal Telecom, Smart Cell and UTL top ups are available, with values ranging from $5 to $56.
The promotion is valid starting on May 7th until May 14th.
MobileRecharge.com is known as a service provider which offers 100% transaction security and satisfaction. All major payment methods are accepted: Visa, MasterCard, American Express, Discover and PayPal.
MobileRecharge.com believes that no distance is too long if people stay in touch on an regular basis. That's why all the services MobileRecharge.com offers make it a great solution for keeping a close relationship with everyone "back home" when living abroad generally, but also for crisis situations. This is mainly due to:

the customer-focused approach, based on safe and easy to use services
the frequent special offers: bonuses on international top ups
the great Customer Service available 24/7
About MobileRecharge.com
MobileRecharge.com is an interactive website designed by KeepCalling, a global telecommunications company registered in 2002 in USA. Presently, KeepCalling provides its services to hundreds of thousands of consumers and businesses, with a focus on customer satisfaction. KeepCalling has been listed by Inc 5000 in top 20 telecom companies in the USA for the last 4 years. Plus, in 2014 the company was named the 18th fastest growing company in the telecommunications industry in USA with a revenue increase of over 600% from 2010 to 2013.