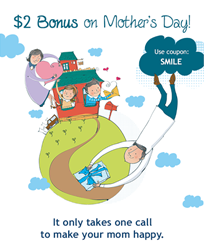 Atlanta, Georgia (PRWEB) May 08, 2015
Mother's Day is the perfect time for people to show their appreciation for their moms, the persons that gave them birth, inspired them and supported their decisions all the way. It's also a time to call moms, in case they are miles away. To help their customers talk more to their mothers back home in Colombia, LlamaColombia.com offers them $2 bonus on all Voice Credit orders placed before May 9th.
The promotion is valid for all Voice Credit orders of minimum $15, placed between May 7th and May 9th. The $2 offer gives customers:

133 minutes, in case customers are calling their moms living in Cali
68 minutes, in case customers are calling their moms' landlines in Colombia
51 minutes, in case customers are calling their moms' mobiles in Colombia
LlamaColombia.com offers its customers great rates on voice calls: only 1.5 ¢/min to call Cali, 2.9 ¢/min any landline in Colombia and 3.9 ¢/min to call any mobile in Colombia.
The Voice Credit service is intuitive, easy to use, working as any other prepaid calling service, but offering all the benefits of an online service: calling history, automatic renewal, etc. Calls may be placed:

From any landline, mobile or even payphone in the world, through local or toll free access numbers.
Calls may also be placed through the app called KeepCalling, which is not chargeable. The iOS and Android applications may be used to call without having to dial any access number, and even any phone number at all. Once logged in the app, customers can use their phone Contacts list to call.
From any PC with Internet connection, through the Web Call app available in customers' accounts.
Besides calling, customers may also send international top-ups to Colombia. The mobile recharge process is easy and intuitive, taking less than 1 minute. Also, the credit is sent instantly to the destination number. Claro, Tigo, Movistar, Uff, Virgin mobile, ETB and Une top ups are available, with values ranging from $5 to $50.
LlamaColombia.com is known as a service provider which offers 100% transaction security and satisfaction. All major payment methods are accepted: Visa, MasterCard, American Express, Discover and PayPal. The service offers an easy, fast, and reliable solution to all those traveling or living abroad interested to add credit to mobiles in Colombia.
What makes LlamaColombia.com a great solution for keeping a close relationship with everyone "back home", when living abroad?

the customer-focused approach, based on safe and easy to use services
the special offers, offering bonuses or discounts on international calls
the great Customer Service available 24/7, both in English and Spanish.
To stay updated with the best offers and special promotions, customers may follow the Facebook page or subscribe to LlamaColombia.com newsletter.
About LlamaColombia.com:
LlamaColombia.com is an interactive website designed by KeepCalling, a global telecommunications company registered in 2002 in USA. Presently, KeepCalling provides its services to hundreds of thousands of consumers and businesses, with a focus on customer satisfaction. KeepCalling has been listed by Inc 5000 in top 20 telecom companies in the USA for the last 4 years. In 2014 the company was designated the 18th fastest growing company in the telecommunications industry in USA with a revenue increase of over 600% from 2010 to 2013.