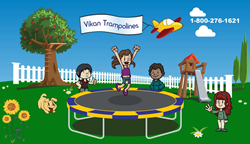 Our trampolines are weatherproof, durable, and built to last
Vancouver, BC (PRWEB) May 16, 2015
Vikan Trampolines, Canada is an experienced Calgary trampoline company that has recently announced that it now offers a full 100% warranty on all trampoline parts. This warranty lasts for up to 5 years and can be redeemed any time during this period. With a rich history of 35 years in researching, manufacturing, and selling high quality trampolines in Canada, Vikan Trampolines is confident that its product will stand the test of time and perform well.
On being asked about the 100% warranty of up to 5 years, a representative of Vikan Trampolines stated that they were certain of their product's quality and performance. They knew that the customer would not need the warranty because all parts of their trampolines are made with great materials, care and precision and usually last more than 10 years.
"You won't need it," states a company representative. "Our trampolines are weatherproof, durable, and built to last. Every Vikan trampoline has a full 100% Warranty for 5 years on all trampoline parts, and is backed by Vikan's 35-year history."
The company aims for 100% customer satisfaction, which is why they lay great emphasis on after sales services, such as warranties and money back guarantees. They have an expansive service area, along with discounted shipping on each purchase.
About the Company
Vikan Trampolines is a trampoline manufacturing and retail company in British Columbia, Canada. In 1981 Ivan MacMillan founded Freedom Sports Limited/ Vikan Trampolines with enthusiastic support and encouragement from members of the Shasta Trampoline Team of New Westminster. Over the years, the association with the Shasta team has played an important role in product development, research, quality, safety and education. Since the company's founding, the world has entered a new millennium, and trampoline has become an official Olympic sport. However, the company's vision remains the same: to provide the best value trampoline for the customer and maintain a 100% satisfaction rate. For more information, log on to https://trampolineshop.com/ or call 1-800-276-1621.