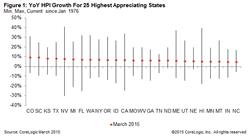 Colorado had the largest home price appreciation at 9.2 percent
Chicago, IL (PRWEB) May 06, 2015
Lenders like Peoples Home Equity were pleased to read about the results of Corelogic's latest Home Price Index (HPI).
According to a recent May 5th article by Corelogic, a North American corporation providing financial, property and consumer information, titled "March 2015 National Home Prices Increased 5.9 Percent from a Year Ago" home prices increased 2% in March. If one excluded distressed properties the monthly increase remains the same at 2%.
In terms of peak-to-tough levels if one includes distressed properties "prices were still 11 percent below the April 2006 peak, and excluding distressed sales, prices were down 6.7 percent from this peak."
Interestingly "Including distressed sales, only two states and the District of Columbia showed year-over-year depreciation. Connecticut fell by 0.6 percent, followed by the District of Columbia (-0.2 percent) and Maryland (-0.1 percent). Excluding distressed sales, only New Mexico showed a decline, falling by 0.4 percent from March 2014."
As for states that are outperforming "Colorado, Nebraska, New York, Oklahoma, Tennessee, Texas and Wyoming reached new highs in their respective home price indices in March 2015. Of these seven states, Colorado had the largest home price appreciation at 9.2 percent, followed by Texas (8 percent), New York (6.8 percent), Tennessee (6 percent), Nebraska (5.3 percent), Oklahoma (4.6 percent) and Wyoming (4.3 percent)."
Peoples Home Equity, a lender with much of its business centered in the Midwest, thinks Illinois shows a lot of opportunity in terms of home prices. Home prices are rising in the Chicagoland area and buyers can still catch a bargain in many well off neighborhoods.
If looking to purchase a home, Peoples Home Equity strongly suggests one should great pre-approved for a mortgage now. Being pre-approved for a home loan enables individuals to place bids on properties freely boding confidence to sellers that there is a serious buyer. As home prices are increasing soon so will interest rates when the Federal Reserve raises its core funds rate. Getting approved for a home loan now is the most affordable option.
If in need of a mortgage, contact a Peoples Home Equity loan officer today at: 262-563-4026