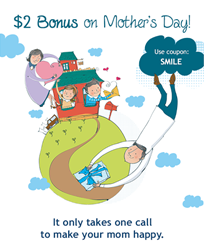 Customers who buy for instance the minimum amount of $15 will receive $17 instead.
Atlanta, Georgia (PRWEB) May 08, 2015
TelephoneJamaica.com is excited to celebrate Mother's Day by offering its customers $2 calling credit bonus. Since Mother's Day is a special occasion all around the world, TelephoneJamaica.com customers can take advantage of this offer and stay on the phone longer with their moms, even if they no longer live in the same country. Mothers are always happy when their children call them and they will be even happier to receive love and congratulations on the day when the entire world celebrates them.
Getting the bonus is easy: customers just need to place a Voice Credit order of at least $15 on TelephoneJamaica.com until May 9 using coupon code SMILE in the buying process
The Voice Credit service can be used when calling from any landline, mobile, or even payphone in the world, through local or toll free access numbers. Calls can also be placed from a smartphone, through the free iOS and Android app called KeepCalling, or from a computer, using the Web Call app available in the TelephoneJamaica.com online account.
So, whether customers want to call and say "Happy Mother's Day", check out how their moms are doing from time to time, or call them on a daily basis, the credit purchased on TelephoneJamaica.com never expires. The Voice Credit rates for international calls to Jamaica are also very convenient: 10.9¢/min for landlines, 18.5¢/min and 4¢ for SMS.
In addition to Voice Credit, TelephoneJamaica.com also offers Mobile Recharge, a service through which customers can recharge mobile phones anywhere in the world. The process is fast and secure and the credit reaches its destination instantly. The mobile operators available for recharges to Jamaica are Digicel and Lime.
What differentiates TelephoneJamaica.com from other services are the low prices offered, the frequent promotions, the simple ordering processes, and the safety of online transactions. What makes the service even more attractive and trustworthy are the comprehensive Help Center and the 24/7 Customer Service, available by phone, chat, and email in both English and Spanish.
TelephoneJamaica.com guarantees 100% transaction security and satisfaction. All major payment methods are accepted: Visa, MasterCard, American Express, Discover and PayPal. Moreover, payment is available in several currencies: US, Australian, or Canadian Dollars, British Pounds, and Euros. The payment security system is known as very strong.
Customers are happy about the low rates and high quality of the service. One of them says "Best site ever! I came upon this site Telephone Jamaica by just browsing and decided to try it. Glad I did. It is hassle free and transfer is sent in minutes. I'll always use it."
About TelephoneJamaica.com:
TelephoneJamaica.com is an interactive website designed by KeepCalling, a global telecommunications company registered in 2002 in USA. Presently, KeepCalling provides its services to hundreds of thousands of consumers and businesses, with a focus on customer satisfaction. KeepCalling has been listed by Inc 5000 in top 20 telecom companies in the USA for the last 4 years. In 2014 the company was designated the 18th fastest growing company in the telecommunications industry in USA with a revenue increase of over 600% from 2010 to 2013.