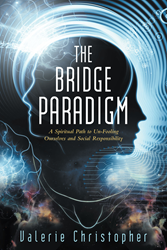 This book is about a new way of thinking and taking action
VOORHEES, N.J (PRWEB) May 06, 2015
"Infectious headlines in 2015," notes author Valerie Christopher, "show protests to police killings of defenseless men; Oscar recipients insisting upon greater inclusion; middle school basketball players defending the victim of bullies; and a university shutting down a racist fraternity." Christopher takes account of these depictions as indications people want to remove cultural divisiveness and apathetic landscapes that lead to promoting and reinforcing detrimental behavior.
"The Bridge Paradigm: A Spiritual Path to Un-Fooling Ourselves and Social Responsibility" acts as a model for those who see the harm in blind ignorance, and recognize the need for civil revamping as a remedy for distorted views, inequality and unlawfulness.
"In the book, I share tangible concepts, ideas, scenarios and discussions that are very much a part of what many people have observed, are experiencing or have encountered," Christopher said.
Christopher finds that individuals are systematically conditioned and adulterated by multiple influences very early in their lives. In "The Bridge Paradigm", she discusses how to identify and reconstruct the various stages of affectedness in all people as well as preventing feeling overwhelmed or stimulated by those factors going forward to become socially reliable and advance the human condition.
This book is about a new way of thinking and taking action, since Christopher says, "positive thinking alone is never enough." Readers feel the freedom of knowing what characterizations best describe them and where they have the potential to place themselves. It emphasizes the emergency for social responsibility of all people since there are no wizard remedies.
For more information, visit http://www.valeriechristophercollection.com.
"The Bridge Paradigm"
By Valerie Christopher
Softcover | 6 x 9 in | 246 pages | ISBN 9781483424255
E-Book | 246 pages | ISBN 9781483424248
About the Author
Valerie Christopher is a writer and consultant. Following a private-sector career, she established her own consulting business. An educator at heart, she has taught cultural-studies courses and written educational materials on various topics. Her academic focus is in education and health science, and her personal passion is history.
Lulu empowers people of all ages to explore and express their interests, passions and expertise through books, photography and art. Since introducing self-publishing in 2002, Lulu has empowered creators in more than 225 countries and territories to produce nearly two million publications. Lulu Jr. allows children to become published authors, encouraging creativity, strengthening literacy and building self-esteem. Picture.com offers professional photography of collegiate and professional sports, memorable and historic events, fine art and home décor. For more information, please visit http://www.lulu.com.