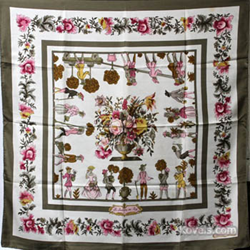 (PRWEB) May 07, 2015
Some sons and daughters say it with flowers, candy or a card. But Kovels.com knows a timeless vintage item that is useful or decorative and appreciates the past would be a thoughtful Mother's Day surprise. What better way to celebrate Mom than with a one-of-a-kind gift you know she won't receive from anyone else? Here are 5 gift ideas you may never have considered that any mother would love.
1. Vintage silk scarf. An Hermès scarf is a classy accessory—and very expensive. But you can buy a vintage Hermès scarf at auction for a lower price. This Hermès silk scarf (pictured), called Les Jardinièrs du Roy (The Garden of the King) was made in 1967, is 35 inches square, and cost $330 at DuMouchelles auction. You may even find one at a house sale.
2. A letter opener. Letter openers have been used since the 18th century. Silver, bronze or ivory were favored by the well-to-do. They can be practical and simple, artistic or ornate, and a stylish addition to a desk or workspace. A sterling silver letter opener with an acorn handle, designed by Johan Rohde in 1917 for Georg Jensen, sold in an online shop for $149.
3. Candlesticks. There's nothing like interesting candle holders for dressing a tabletop and making a room more romantic. Candlesticks from every era can be mixed and matched and used almost everywhere. A popular current design look features a grouping of different candlesticks that have a similar characteristic arranged on a table or mantle to make a whole "collection." An amethyst Steuben glass candlestick, c.1925, 10 inches high, sold for $132 at a Jeffrey S. Evans auction.
4. Corkscrew. Antique and vintage wine accessories are hot collectibles. Your Mom will smile every time she reaches for the Alessi "Anna G" corkscrew. The funky lady with a smiling face was an instant design classic since it was appeared in 1994. Kim Kovel spotted one in the Indianapolis Museum of Art on her recent museum hopping tour of the Midwest (see On the Road in Kovels' May 2015 newsletter). They're still made and sell for about $70 to $100.
5. Vase. Flowers are a predictable gift, but why not present a bouquet in an amazing vase? Whether it's antique Nippon porcelain, vintage Fenton glass or midcentury studio pottery, choose a vase your mother would never have bought for herself. Example: an elegant cut glass vase in a corseted shape made by J. Hoare & Co. in the early 20th century, sold for $330 at a Jeffrey S. Evans auction.
Of course a great Mother's Day treat would be to take your mother to an antique show or flea market. Many have special Mother's Day hours and celebrations."Kovels' Antiques and Collectibles Price Guide 2015," with 35,000 prices and 2,500 color photographs, available in Kovels online store, is a great take-along.
Terry Kovel is America's foremost authority on antiques and collectibles. She is the well-known columnist and author of more than 100 books on antiques and collecting. With her daughter, Kim Kovel, she co-authors the best-selling annual "Kovels' Antiques and Collectibles Price Guide." The 2015 edition is now available in bookstores and online. They will discuss antiques and collectibles topics with accredited media. Photographs are available. Contact pr(at)kovels(dot)com.
About Kovels.com
Kovels.com, created by Terry Kovel and Kim Kovel, provides collectors and researchers with up-to-date and accurate information on antiques and collectibles. The company was founded in 1953 by Terry Kovel and her late husband, Ralph. Since then, Kovels' Antiques has written some of America's most popular books and articles about antiques, including the best-selling "Kovels' Antiques and Collectibles Price Guide," now in its 47th edition. The website, Kovels.com, online since 1998, offers more than 1 million free prices, and includes a free weekly email, "Kovels Komments." It gives readers a bird's-eye view of the market through the latest news, auction reports, a Marks Dictionary, readers' questions and answers and much more.
Contact Information:
Liz Lillis
216.752.2252
Pr(at)kovels(dot)com