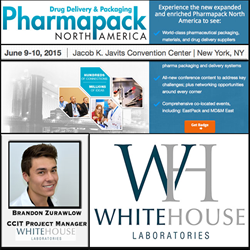 We are pleased to have Brandon take part in our June 9 session, which should be informative and timely, given the number of chapters that are being revised and the significance of those revisions
WHITEHOUSE, New Jersey (PRWEB) May 13, 2015
Whitehouse Laboratories is excited to announce that it has accepted an invitation to participate in a formal session at Pharmapack North America, sponsored by Pharmaceutical & Medical Packaging News. Titled "Recent Changes and Proposed Changes to USP Packaging Chapters," this session aims to address key issues regarding USP Container testing changes currently under consideration. Key participants include moderator Dwain L. Sparks, a Strategic Advisor and Expert Consultant, YourEncore (Eli Lilly and Company retiree); Diane Paskiet, Director of Scientific Affairs, West Pharmaceutical Services INC.; Oliver Stauffer, Vice President/COO, PTI – Packaging Technologies & Inspection; and Brandon Zurawlow, CCIT Project Manager, Whitehouse Laboratories.
"We are always thrilled to take part in educational events, especially as they relate to USP Container testing," commented Mark Stier, Chief Operations Officer of Whitehouse Laboratories. "As container testing is a key service area for Whitehouse Labs, we are confident that the expertise our key staff members, like Brandon Zurawlow, bring to this field will prove valuable to those attending this session."
The session will focus on the impact of recent revisions and pending changes to USP chapters on the industry. Whitehouse Laboratories' contribution will come in the form of a 20 minute discussion on confusion in the industry resulting from proposed and recent changes to USP 661 and USP 671 chapters from the perspective of a contract laboratory.
"Whitehouse Labs is on the frontlines with key pharma clients who are working to ensure that their containers and package systems meet regulatory requirements. Review, understanding, and experience with the specific current and proposed test procedures are imperative to successful implementation," says Zurawlow. "Unfortunately, our hands-on experience has highlighted many areas of confusion and misinterpretation."
The general sentiment of confusion is not limited to those working with contract laboratories.
"Changes to the USP packaging-related chapters were identified as a topic of interest during our research for the conference," explains Daphne Allen, editor of Pharmaceutical & Medical Packaging News, who is also serving as conference producer for the event. "We are pleased to have Brandon take part in our June 9 session, which should be informative and timely, given the number of chapters that are being revised and the significance of those revisions."
"This presentation will review real world examples of the state of chaos and confusion that has become prevalent within the pharmaceutical industry when it comes to container testing. We will highlight contrasting examples of the process working correctly with other chapters that has led to more effective and successful outcomes for industry," says Zurawlow. "Addressing these issues in a public forum of peers can help the entire industry work on improving the container testing process."
For over 30 years, east coast medtech professionals have gathered at Pharmapack North America to see firsthand the latest innovations in medical device design and to learn and network with the leading minds in the industry. MD&M East returns this June 9-10, 2015, at the Jacob K. Javits Convention Center in New York City for three full days of education, networking, and business development. Returning and expanded features at MD&M East to include:

Hundreds of top suppliers demonstrating the latest medical device innovations
World-class experts sharing their knowledge on today's hottest topics at the MD&M East Conference
The Medical Design Excellence Awards (MDEA) recognize the most significant advances in medical product design and engineering
Exclusive networking opportunities to connect with like-minded professionals at Speed Networking
Free educational sessions right on the show floor at the Center Stage & Tech Theater
Behind-the-scenes looks at the latest innovations on the show floor with free Innovation Tours
Attendees of Pharmapack North America will also have access to other 3 day events on the same show floor covering topics including packaging (EastPack), industrial design and manufacturing (Atlantic Design & Manufacturing), plastics (PLASTEC East), automation and robotics (ATX East), quality assurance and management (Quality Expo East), and health and beauty products and brand development (HBA Global).
For more information and to register for Pharmapack North America, please visit: http://pharmapackna.pmpnews.com/.
About Whitehouse Laboratories
The Testing Partner to Manufacturing Companies, Whitehouse Labs is an FDA regulated, DEA Licensed, ISO 17025 and ISTA certified contract service provider to the pharmaceutical, medical device, personal and consumer product industries. Whitehouse Laboratories offers analytical services for the testing of materials, finished products, container and package systems that enable our clients to meet and exceed the required quality standards established by the key regulatory agencies.