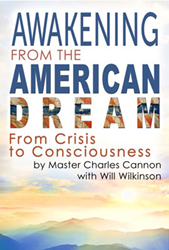 "In a mess? Meditate, when it matters most, to stay on the mend"
FABER, VA (PRWEB) May 11, 2015
Mother Nature certainly seems to reveal herself to the migrating hawk population as it crosses the Virginian tree-top skyline. The elevation of the foothills probably possesses more than a passing numerical height value for these aerial creatures on their return from the South. In days gone by that seer and sage from antiquity, named Pythagoras, had his own particular view on life's coordinates. Longitudes and latitudes, above and below sea level, musical octaves and so forth have a scaling magnitude greater than the math alone. Amazingly, much of natural phenomena observed by science is basically a pattern of high and low frequencies. In the human dimension, international spiritual guide, Master Charles Cannon, who dwells on a hillside and in a polygonal habitat, has not just the view, but an appreciation for heights.
With a reliability akin to today's GPS tracking device he has grounded his worldview in two, creative masterworks: the book, "Awakening from the American Dream", and "NOW…the Technology" which utilizes a common behavioral device as a buffer against the countless spacial debris orbiting the everyday world. Those entering a meditation community have no truer friend.
With an equal ratio of observation and honesty his book dauntlessly recounts American Society, as seen by the numbers. With very few exceptions (#1 in pharmaceutical pill sales, or #1 in military spending), anyone knows that the country is no longer a top-10 contender in any of the classic quality-of-life indicators. No longer the #1 of lore. The book does all to expose the voodoo "by-the-numbers" that the corporate media mill likes to push around which doesn't quite add-up to an "American Dream". As genially and ungrudgingly as Ghandi, Master Charles Cannon has splendidly spared his readers the distressing chore of doing the math. But living with the math is an entirely different matter. In this so-called "new normal" world, where one-plus-one no longer correlates to formula, he makes a retraction. He reformulates the question. Maybe one plus one equals "one-ness" instead. Without making any miscalculation, or divisions, connotations, denotations, or resorting to euphemisms, his meaning displays the golden iridescence of a spring blossom. Recalling a simple flower, no matter how may petals it's likely to sport, its real beauty rests in the memory of its one, unified image. In much the same addition, it takes five-fingers to form the one hand that pucks the flower.
Math aside, and getting away from the evidently lost and missing potentiality of the "American Dream", he fondly shares a common, ever-repeating, ever-beating bouquet of one-and-the-sameness: One with Nature, One Source of life, One life to cultivate, One-of-a-kind….
For an encore? Modern spiritual teacher, Master Charles Cannon, elevates his meditation message with "NOW…the Technology". It is an audio-sonic balancing tool to restore personal equilibrium. This entrainment technology is known to bring first-hand, acoustical quality benefits to its users. In trying his hi-tech meditation-method participants are reaching a personal crescendo. Start with any stereophonic sound-speaker system, portable i-Pod, MP3, or with headphones. Then push play on-low. Alpha, theta, delta and subtle gamma frequency patterns, bio-geometrically, and holo-dynamically perform the "synchronicity". In plainer English, these frequencies entrain, or balance those bruised brainwaves banging into everyone's otherwise preferred state of equilibrium. Quickly and clearly, these good vibrations race to close the gap between a frustrating disturbance and an undivided focus, leaving anyone with a better experience and in a better place.
What does anyone derive of the multipliciter effect resonating from both Synchronicity's book and meditation technology? Tracking the numbers of testimonials as viewed on its website answers that. What resonates time and again is a registry of personal sensations, as pleasurable and melodious as an acoustical chord.
===================================================================
For background, interview, feature, or cover materials, refer to:
Master Charles Cannon
Master Spiritual Teacher of "Modern Spirituality"
Disciple of Swami Muktananda Paramahansa
Author of: "Bliss of Freedom", "Meditation Tool Box", "Modern Spirituality" book and CD set, "Forgiving the Unforgivable" and "Awakening from the American Dream"
Founder of International Synchronicity Foundation for Modern Spirituality, and Synchronicity Sanctuary Retreat Center
Pioneer of the High-Tech Meditation Method "Modern Meditation for a Modern World"
Program Event Host at the Blue Ridge Mountains, Central Virginia International Retreat Center
Web Channel Leader and Teacher @ http://www.schoolofmodernspirituality.com
Phone: 757-644-3400 Ext 338
Fax: 434-361-1058
Email: synch(at)synchronicity(dot)org
Primary Website: http://synchronicity.org
School of Modern Spirituality: http://schoolofmodernspirituality.com
TV Website: http://modernspiritualitytv.com
Master Charles Cannon: http://mastercharlescannon.com