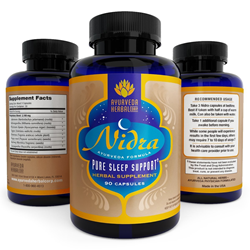 "Wonderful product that finally gave me a good and restful nights sleep"
Miami Lakes, FL (PRWEB) May 28, 2015
Nidra Herbal Sleep Supplement features a 100% Ayurveda herbal formulation and is incredibly gentle on the body. A non-addictive supplement, Nidra Herbal Sleep Supplement is more than just a sleeping aid; this blend of natural ingredients will leave users with a real sense of wellbeing the next day.
A holistic system of care
Ayurveda, which translates as the "Science or Knowledge of Life", was first used in India more than 5,000 years ago and is a holistic system of knowledge which combines contemplation, herbal supplements and a harmonious life. This healing system looks after mind, body and spirit; when our body experiences pleasure, our brain releases healing chemicals to the whole body, helping us combat disease and illness.
Head and shoulders above the rest
The benefits of Nidra are clear and totally out weight those of other sleeping supplements such as melatonin. Melatonin is naturally produced in the human brain; it lets your body know that it's time to go to sleep. Thousands of people across the States take melatonin supplement tablets, however melatonin can actually be dangerous to a person's sleep.
Taken in the wrong amounts, melatonin can wreck a person's sleep cycle and can sometimes mean they will wake up in the middle of the night. Some people also suffer from a "melatonin hangover" after a night's sleep, something that is not a side effect of Nidra, which leaves the user feeling refreshed every morning. Also, unlike Nidra, melatonin does nothing to help with symptoms such as depression and anxiety.
People who don't get enough sleep can cause a range of issues such as; weight gain, concentration issues, aging skin, increases risk of heart disease and in some cases, can cause depression. Conversely, people who have regular, quality sleep can enjoy increased memory levels, higher metabolism rates, lower stress levels and can also help the users body repair damaged cells.
Why Ayurveda
Unlike most orthodox Western sleeping aids, Ayurveda concentrates on the specific qualities of each person, isolating the differences among various diseases because after all, everybody is different. Ayurveda teaches any health-related measures including all diet plans, vitamin supplements and exercise programs need to be built on a solid foundation of understanding of the users mind-body make-up.
Three steps to healthy sleep
The makers of Nidra suggest for optimum effectiveness, the users starts by taking 3 capsules of Nidra every night before bed; Nidra goes down best with a cup of warm milk. Nidra's herbal concoction will get to work straight away, allowing the user to gently drift off to sleep. Manufactures claim the next day the user will immediately notice the benefits of Nidra and be amazed as they jump up out of bed, ready to seize the day!
Anyone who orders a batch of Nidra Herbal Sleep Supplement will get an additional 20% off RRP with the promo code: PFYPJ8ZK.
Click following link to get 20% off a bottle of Nidra-- http://www.conicalweb.com/Nidra