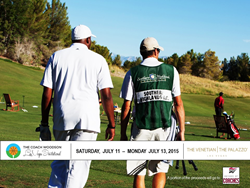 "We partnered with The Coach Woodson Invitational because it is a fantastic event with great star power," said George Markantonis, president and chief operating officer of The Venetian, The Palazzo and Sands Expo
Las Vegas, NV (PRWEB) May 07, 2015
The 2nd annual Coach Woodson Las Vegas Invitational, the ultimate luxury weekend hosted by Assistant Clippers Coach Michael Woodson, will take place July 11-13, 2015 in Las Vegas, merging basketball with golf, fashion and fun experiences in support of a great cause. The event, co-hosted by ESPN SportsCenter Anchor, Jay Harris, Actor and Comedian, Erik Griffin and Professional Golfer and Fashion Designer, Seema Sadekar, includes hospitality by The Venetian® Las Vegas, and golf at Southern Highlands Golf Club, an exquisite Robert Trent Jones designed property.
"I'm looking forward to hosting this event for the second year," said Coach Woodson. "I started this event to celebrate friends, family and coaches while supporting basketball programs for youth; I'm proud of the positive impact we have made to date thanks to our sponsors, guests and supporters. This event is truly the ultimate summertime experience for those who love to play golf and it will surely be a weekend to remember."
The event will kick off Friday, July 10 at 2:00 p.m. with The Woodson Youth Basketball Experience presented by COX Communications at Impact Basketball Las Vegas, the event will host junior participants who will receive hands-on coaching from the accomplished Coach Woodson and NBA stars.
On Saturday, July 11 at 7:00 p.m. celebrities and VIP guests are invited to attend the Woodson Jacket Welcome Reception at the Paiza Lounge at The Venetian. On Sunday, July 12, Woodson will host a Celebrity Skins Game at Southern Highlands Golf Club followed by a Red Carpet and Pairings Party at LAVO, inside The Palazzo® Las Vegas.
The Coach Woodson Las Vegas Invitational is part of a special Ultimate Sports Month at The Venetian and The Palazzo Las Vegas. "We partnered with The Coach Woodson Invitational because it is a fantastic event with great star power, and will be exciting for guests to experience, and most importantly, it gives back to the community," said George Markantonis, president and chief operating officer of The Venetian, The Palazzo and Sands Expo.
On Sunday, July 13 guests will tee off at Southern Highlands Golf Club, while ladies enjoy Tea with Terri Woodson, wife of Mike Woodson, at the Paiza Lounge at The Venetian. Wives and ladies will be escorted to the golf course in style to watch their husbands and guests come up 18.
Confirmed celebrity guests include Los Angeles Lakers Head Coach, Byron Scott, NBA Hall of Famer, Julius Erving, hosts of HGTV's hit show Property Brothers, Jonathan and Drew Scott, NFL Hall of Famers Jonathan Odgen and Andre Reed, saxophone artists Mike Philips and Paul Taylor, Fox Sports Anchor, Mike Hill, Former NFL Player and Model, Dale Moss, former Boxing Champion, Winky Wright, Platinum recording artist, Jeffrey Osborne and a number of notable NBA coaches and players.
A portion of the event benefits Nations of Coaches, a non-profit organization dedicated to bringing coaches together through guidance and knowledge in order to create better players and coaches. VIP Packages can be tailored to include golf, hospitality, and invitations to the private parties. For information on VIP experiences call Play Golf Designs Inc.: 702.858.4653.
For more information, visit http://www.CoachWoodsonInvitational.com
About The Coach Woodson Invitational
The Coach Woodson Las Vegas Invitational will be the only summer golf event in Las Vegas where influential sports figures and celebrities congregate. Founded by the former NBA player and head coach of the New York Knicks, Mike Woodson lives with the mission to give back to the community through sports and friendship. All for a good cause, The Coach Woodson Las Vegas Invitational celebrates the world of basketball, while showcasing the best of golf, fashion and entertainment. For more information, visit http://www.CoachWoodsonInvitational.com, like on Facebook, http://www.Facebook.com/COACHWOODSONinv or tweet @COACHWOODSONinv. Hastags: #CWLVI2015 #WoodsonVegas #CWLVI
About The Venetian Las Vegas
Located in the heart of the Las Vegas Strip, The Venetian Las Vegas features all-suite accommodations, exquisite restaurants by celebrity chefs and world-class entertainment and shopping. The luxury resort offers 4,028 elegant suites, including standard suites that are nearly double the size of the average Las Vegas hotel room. The Venetian is home to restaurants from celebrated chefs including Wolfgang Puck, Mario Batali, Thomas Keller, Daniel Boulud, Emeril Lagasse and Buddy "Cake Boss" Valastro. The resort also features Canyon Ranch SpaClub; a five-acre pool and garden deck; TAO nightclub; the Grand Canal Shoppes retail and dining mecca; a 120,000-square-foot casino and The Strip's largest poker room; and more than 2.25 million square feet of meeting and convention space. Dynamic live entertainment includes concert headliners at The Venetian Theatre; '80s rock musical "ROCK OF AGES;" Motown favorites from the multi-platinum quartet Human Nature; and the all-female comedy series LIPSHTICK - THE PERFECT SHADE OF STAND UP. For more information, visit venetian.com, @venetianvegas and facebook.com/venetianlasvegas.
About The Palazzo Las Vegas
The Palazzo Las Vegas takes luxury on the Las Vegas Strip to discerning new heights with more than 3,000 suites including the largest standard suites on The Strip, luxury shopping, world-class dining and entertainment. The all-suite resort features premier restaurants from award-winning chefs including CUT by Wolfgang Puck, Carnevino by Mario Batali, and Table 10 by Emeril Lagasse. Resort highlights include Canyon Ranch SpaClub; Azure luxury pool experience; LAVO restaurant and lounge; the Grand Canal Shoppes, anchored by a flagship Barneys New York; a 105,000-square-foot casino; and more than 2.25 million square feet of meeting and convention space. Live entertainment at The Palazzo includes "FRANK - The Man. The Music.," a must-see theatrical tribute to the life and music of Frank Sinatra. For more information, visit palazzo.com, @palazzovegas and facebook.com/palazzolasvegas.
Event Contacts
Nisha Sadekar, Event Director | nisha(at)playgolfdesigns(dot)com
Arthur Brown, Director of Operations | arthur(at)playgolfdesigns(dot)com
Rachel Rees, Public Relations | rachel(at)pgdglobal(dot)com
Tournament Website | http://www.coachwoodsoninvitational.com
Play Golf Designs Inc.| PGD Global | info(at)coachwoodsoninvitational(dot)com
Tournament Office 702.858.4653
PLAY GOLF DESIGNS INC.
Play Golf Designs Inc. is a golf specialty events and management company founded in 2006 with the mission to grow and expand the game of golf.