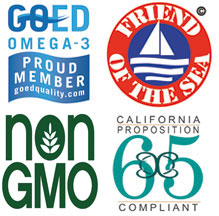 there's a huge demand for high-quality encapsulated nutritional oils and we can provide them quickly and at preferred pricing for our clients
Secaucus, NJ (PRWEB) May 08, 2015
Icelandirect, a leading supplier of fish and vegetable oils to the dietary ingredient industry in bulk, encapsulated, and fully packaged form intended for people and pets, has today announced a major expansion into the ingredient market and a fresh supply of encapsulated softgels at discounted prices, ready to ship.
Icelandirect's nutritional supplement products carry full GMP compliance, meet California Proposition 65 standards, are made from non-GMO materials, are ethically sourced from sustainable supplies overseen by Friend of the Sea, uses carbon-neutral production methods, are produced to have a long shelf-life, and are all 3rd-party tested for purity and potency.
Mark H. Stenberg, CEO of Icelandirect, states that "there's a huge demand for high-quality encapsulated nutritional oils and we provide them quickly and at preferred pricing to our clients."
In stock at low prices include Vitamins A and D, Alpha Lipoic Acid (Ala), Astaxanthin, CLA Safflower Oil, Deodorized Garlic, Glucosamine, Chondroitin, D and Dl Alpha Tocopheryl Acetate, E-1000 D Alpha & Dl Alpha Blend, Co Q 10, Saw Palmetto, Royal Jelly, Black Currant Oil, Borage Oil, Chia Seed Oil, Omega-3 in various concentrations, Cod Liver Oil, Flaxseed Oil, Krill Oil, Salmon Oil, Shark Liver Oil, Triple Omega 3-6-9, Evening Primrose Oil, Flaxseed Oil and Lecithin, among others.
Icelandirect has a commitment to the highest level of quality and purity with product certifications from GOED, Friend of the Sea, GMP, ISO 9001, Non-GMO Project, HACCP, and NOAA.