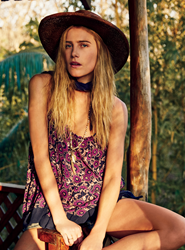 "Providence is such a natural home for our brand. You can feel the creative energy in this city and I look forward to introducing the Free People lifestyle into the local community as we open our first
Philadelphia, PA (PRWEB) May 06, 2015
Specialty fashion brand, Free People, will bring its coveted assortment to Providence, Rhode Island on May 20th, 2015. Opening at Providence Place, the 3,218 square foot location will be the brand's 107th boutique and the first in the greater Providence area. In addition to stocking the signature bohemian styles Free People is known for, the boutique's opening assortment will highlight summer pieces alongside a wide range of the brand's 'Intimately Free People' line of bras, undies, slips, seamless layering pieces, and loungewear.
"Providence is such a natural home for our brand," says Beth Wehagen, Free People's Director of Retail. "You can feel the creative energy in this city and I look forward to introducing the Free People lifestyle into the local community as we open our first store in Rhode Island."
At opening, the Providence Place boutique will carry a strong range of summer pieces showcasing bold prints, embroidery, texture, and touches of lace. Varied silhouettes, including maxis, minis, midis, and rompers, will round out the dress category alongside a strong focus on shorts paired back to select tops for easy outfitted options. The brand's well-known wash trend of unique dyes, fades, and distressing techniques, will be represented across all classes, including accessories. The assortment will be filled with clean and simple silhouettes with a strong focus on white hues alongside bright embellished accessories for pops of color.
The new boutique will be designed in the brand's 'Boho Bungalow' concept, representing the globe traveling girl and the collections that she curates and displays in her space. The experience starts at the entry with large double doors surrounded by six-inch wide oak slats adorned with white porch paint. Natural wood will frame the store front windows alongside white washed wood slats in varying widths. Inside the space, customers will be greeted by natural wide plank reclaimed wood flooring, mica plaster accents, textured white washed wooden slat walls, and white wood beams along the ceiling that delineate the store's shopping destinations. The 'Intimately Free People' section will have a special moment with soft maple beams and columns at the entry. Towards the rear of the store, five fitting rooms will be nestled beneath a beach hut inspired wooden ceiling. Soft maple shrouds help create an overall warm and inviting palette.
The boutique will have a celebration on opening day, May 20th, from 6-8pm. The first 50 customers to arrive will receive a tote bag giveaway. Light refreshments will be served and store stylists will be on hand to give in-store styling sessions. Guests should RSVP on Facebook: http://facebook.com/events/1572707363012685/
Each Free People store offers personalized shopping experiences from a team of expert stylists. Customers can schedule a one-on-one appointment with their favorite stylist, as well as interact and gain inspiration through the brand's online Style Community, FP Me. In addition to offering personal styling, Providence fans can look forward to a variety of in-store events to be hosted at the Free People Providence Place boutique throughout the year.
Free People Providence will be located at Providence Place, 26 Providence Place, Providence Place Mall, Providence, RI 02903. Store hours will run Monday-Saturday 10am-9pm, and Sunday 11am-6pm. Fans should follow along on Instagram to stay up to date on all the latest arrivals, events, and other happenings: instagram.com/FreePeopleProvidence/
For more information, images, to request an interview, or to discuss a TV opportunity, please call Sarah Santos at 215-454-7224 or email ssantos(at)freepeople(dot)com.
# # #
About Free People
Free People is a specialty clothing brand featuring the latest trends and vintage collections for women who live free through fashion, art, music, and travel. The eclectic look consists of quality apparel, shoes, and accessories that invoke attributes of femininity, spirit, and creativity with its design. Free People is distributed globally via direct channels including the Free People Global site, the Free People UK site, and the Free People China site as well as specialty boutiques, top department stores, and the brand's free standing retail locations in the U.S. and Canada.
About Providence Place
Providence Place is owned and managed by General Growth Properties, Inc., an S&P 500 company focused exclusively on owning, managing, leasing, and redeveloping high quality retail properties throughout the United States. GGP is headquartered in Chicago, Illinois, and publicly traded on the NYSE under the symbol GGP.