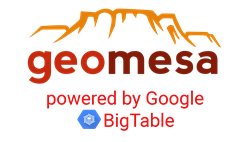 Whether you're using social media to inform your marketing, clinical data to study population health, or mobile position data to drive your app, GeoMesa allows you to access and analyze these data at scale.
Charlottesville, VA (PRWEB) May 06, 2015
Commonwealth Computer Research, Inc. (CCRi), in collaboration with Google, Inc., has announced the initial release of GeoMesa for Google Cloud Bigtable.
GeoMesa is an open-source system that quickly stores, indexes, and queries hundreds of billions of geospatial features in a distributed (i.e. cloud) database.
GeoMesa's novel indexing strategy effectively distributes the data across, utilizing the full processing power of the cloud for writing and querying. This index keys on both spatial and temporal attributes to support mapping and analytical functions. GeoMesa's innovative approach makes it the leading open-source solution for storing big spatial data in the cloud.
Distributed databases already enable developers to store "big data" in the cloud, but without a spatial adapter like GeoMesa, they cannot effectively take advantage of the inherent spatial attributes of the data. GeoMesa works on top of distributed data stores to facilitate spatial analysis. This means developers can query for events that occurred within 4 miles of a location, for example, or within the bounds of a specific polygon (e.g. inside the state of Virginia).
GeoMesa supports the Open Geospatial Consortium (OGC) standards so developers can easily migrate existing systems or build new systems on top of GeoMesa. Developers familiar with GeoServer or the OpenGeo Suite can use the GeoMesa plugin to add new data stores backed by Google Cloud Bigtable.
By using Google Cloud Bigtable to back GeoMesa, developers are freed from the need to stand up and maintain complex cloud computing environments. These environments are not only expensive to build, but they require highly-trained DevOps Engineers to maintain them and grow them as the data accumulates.
CCRi is a data science corporation focused on designing and implementing sophisticated analytical tools to answer important questions for its clients. CCRi also offers professional support packages to stand-up and support GeoMesa. GeoMesa is an open-source system offered through the Eclipse Foundation's LocationTech Working group. Contact CCRi for to get started with GeoMesa today http://www.ccri.com/geomesa. For more information on GeoMesa, see http://www.geomesa.org. For more information on Google Cloud Bigtable, see http://cloud.google.com/bigtable.
About CCRi
Commonwealth Computer Research, Inc, (http://www.ccri.com) is a small analytics and software engineering company located in Charlottesville, VA. We provide custom software development and innovative information engineering solutions to customers in government and private industry. CCRi has completed projects ranging from optimizing the world's largest container port to predicting future asymmetric warfare events. We apply machine learning techniques to textual, spatial, and numeric data sets to answer key questions posed by our clients. We then implement these solutions into software systems with a strong focus on scalability, usability, and data visualization. CCRi built and open-sourced the GeoMesa system. CCRi provides professional support for GeoMesa and the OpenGeo Suite in partnership with Boundless (http://www.boundlessgeo.com).