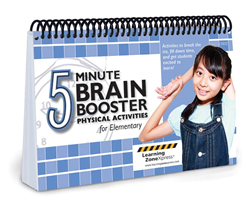 (PRWEB) May 07, 2015
Learning ZoneXpress is supporting the President's Council on Fitness, Sports & Nutrition in honor of National Physical Fitness and Sports Month. During the month of May, we challenge everyone to get the recommended physical activity guidelines for children and adults.
The Physical Activity Guidelines for Americans recommend that adults:

Aim for 2 hours and 30 minutes of moderate aerobic activity each week. Moderate activity includes things like walking fast, dancing, swimming, and raking leaves.
Do muscle-strengthening activities – like lifting weights or using exercise bands – at least 2 days a week.
The Physical Activity Guidelines for Americans recommend that children and adolescents aged 6-17 years:
Should have 60 minutes (1 hour) or more of physical activity each day.
Do 60 minutes of aerobic activity each day and include muscle and bone strengthening physical activity at least 3 days each week.
For ideas on incorporating physical activity into a student's school day, take a look at the NEW 5 Minute Brain Booster Physical Activities for Elementary. This 5 minute activity book emphasizes a healthy lifestyle by engaging students with 50 quick and effective physical and mental activities to break up class time.
These activities include:
Chair Exercises
Use Your Voice
Brief Stretches for Desk Work
Classroom Challenges
Partner Work
Physical activity is for everyone. No matter what shape you are in, you can find activities that work for you. Together, we can rise to the challenge and get more active during the month of May and all year long!
For more products to help you incorporate physical activity into your students' day, visit http://www.learningzonexpress.com.
Learning ZoneXpress, based in Owatonna, MN, is a leading source of award-winning nutrition education resources. Its mission is to improve the health and vitality of people by providing relevant, creative and affordable teaching tools about healthy behaviors and nutrition. Learning ZoneXpress offers a wide variety of educational products including posters, handouts, videos, games and lesson plans. For more information about Learning ZoneXpress, visit http://www.learningzonexpress.com or call 888-455-7003.