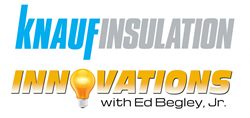 Shelbyville, IN (PRWEB) May 08, 2015
Knauf Insulation announced that they will be featured in an upcoming episode of Innovations with Ed Begley Jr., airing 3rd Quarter via Discovery Channel. Dates and show times TBA.
With more than 35 years of experience in the insulation industry, Knauf Insulation represents one of the fastest growing and most respected names in insulation worldwide. This segment will educate audiences on Knauf Insulation's products and solutions, which are developed in order to help deliver low energy buildings.
"At Knauf Insulation we have clearly established a leadership position in our industry from a sustainable development standpoint. Our green chemistry initiative has transformed an entire industry. And, using recycled glass to make insulation to save energy feels very noble, but that's what we do at Knauf Insulation and I took forward to talking about it more on the Innovations series," said Scott Miller, Director of Sustainability at Knauf Insulation.
"Knauf Insulation is developing new solutions to help with new challenges and pioneering new tools to help customers better understand the environmental impact of its products and solutions," said Robert Sikich, Senior Producer for the series.
About Knauf Insulation:
Knauf Insulation manufactures a wide range of insulation products to meet the growing demand for energy efficiency and acoustic performance in new and existing homes, commercial buildings and industrial applications. Knauf Insulation is committed to sustainable development and conservation of the environment and manufactures its products from recycled materials.
For more information, visit: http://www.knaufinsulation.us.
About Innovations and DMG Productions:
Innovations, hosted by award winning actor Ed Begley, Jr., is an information-based series geared toward educating the public on the latest breakthroughs in all areas of society. Featuring practical solutions and important issues facing consumers and professionals alike, Innovations focuses on cutting-edge advancements in everything from health and wellness to global business, renewable energy, and more.
DMG Productions (responsible for creating the Innovations show) includes personnel specialized in various fields from agriculture to medicine, independent films to regional news and more. Field producers work closely with experts in the field to develop stories. This powerful force enables DMG to consistently produce commercial-free, educational programming that both viewers and networks depend on.
For more information visit http://www.InnovationsTelevision.com or contact Robert Sikich at (866) 496-4065 x 805 or via email at Robert(AT)InnovationsTelevision.com.