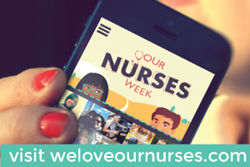 We surveyed Travelers again this year and we're looking forward to honoring our committed, hard-working Travel Nurses with a fun, interactive Nurses Week.
Omaha, Nebraska (PRWEB) May 07, 2015
Medical Solutions, the nation's third-largest travel nurse staffing company, will celebrate Nurses Week 2015 with a variety of activities, prizes, and a scholarship contest at WeLoveOurNurses.com.
The pet-friendly agency once again based its celebration of the annual, week-long holiday on Traveler feedback.
"Last year we polled our nurses in order to give them a Nurses Week based on how they said they wanted to celebrate," says Jeff Long, Medical Solutions Director of Marketing and Customer Experience. "We surveyed Travelers again this year and we're looking forward to honoring our committed, hard-working Travel Nurses with a fun, interactive Nurses Week."
Medical Solutions' "Your Nurses Week" 2015 celebration will include:

The Real Nurses of Nurses Week — A photo gallery featuring nurses from throughout the world. Nurses can contribute a picture and brief bio about why they're in nursing with the #yournursesweek hashtag for the chance to win one of the following prizes:
o One $100 Amazon gift card (courtesy of Medical Solutions)
o One $50 Amazon gift card (courtesy of Nebraska Methodist College, our RN to BSN Academy partner)
o Three $25 Tafford Uniforms gift cards (courtesy of our friends at Tafford Uniforms)
#yournursesweek — Be a social media butterfly by sharing and searching this hashtag on Facebook, Instagram, and Twitter.
Fourth Annual Nurses of Tomorrow Scholarship Essay Contest — The scholarship funds have increased this year, and three lucky undergraduate or postgraduate nurse scholars will each win $2000 to help out with their education costs. Entrants will write a 250-word essay answering the question, "What does being a patient advocate mean to you?"
Nurses House Charity — Medical Solutions supports this national fund for nurses in need, and has started a team fundraising page for their annual Nurses Week effort, Dolphins for Nurses. Many Travelers expressed a desire to give back for Nurses Week, so this is an opportunity to join the team and help support Nurses House. Click here to learn more or to donate.
Nurses Week eCards — Post and send these to honor yourself and nurse friends and colleagues.
Visit WeLoveOurNurses.com to learn more about and to participate in all of Medical Solutions' Nurses Week festivities.
ABOUT MEDICAL SOLUTIONS: Medical Solutions L.L.C. is a healthcare staffing firm that specializes in placing registered nurses in temporary travel assignments throughout the nation. The company is the third-largest Travel Nurse staffing agency in the United States, with locations in Omaha, San Diego, Cincinnati, and Tupelo, MS. Medical Solutions was one of the first Travel Nursing and Allied Healthcare staffing companies to be certified by the Joint Commission and has been continuously certified since January 2005. Medical Solutions was named one of the top three staffing firms to work for in Staffing Industry Analysts' 2013 "Best Staffing Firms to Work For," has been named seven times to the Inc. 5000 list of fastest-growing private companies, and its flagship Omaha office won the 2014 Better Business Bureau Integrity Award. A nationwide network of qualified healthcare providers allows Medical Solutions to help its client hospitals continue to provide excellent patient care amidst a nursing shortage. Medical Solutions has contracts with 1,500+ client hospitals nationwide and is one of the fastest-growing companies in the Travel Nursing industry. Visit MedicalSolutions.com to learn more.