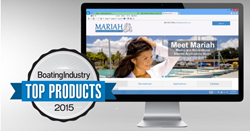 "We are truly pleased to be awarded the Top Product 2015", says Vance Young, Director of Technology at Scribble Software Inc. "The MARIAH cloud platform is ground breaking technology that is quickly changing how marinas operate and interact with boaters."
Mechanicsville, Virginia (PRWEB) May 07, 2015
Scribble Software's cloud platform MARIAH has been named as a 2015 Top Product award recipient by Boating Industry.
The 2015 Top Products were selected by the editors of the Boating Industry magazine and were selected based on many factors, including innovation, impact on the industry, and how they advanced their category – or created a new category.
"The Boating Industry Top Products program recognizes products that offer new solutions and advance their category," said Boating Industry Editor-in-Chief Jonathan Sweet. "We picked products with an eye toward how they advance the boating industry."
As a cloud platform, MARIAH is an extension of MarinaOffice, a leading marina management software solution used through the globe. MARIAH empowers both the boat owner doing business with a marina and marina staff by providing a network of internet and mobile apps. MARIAH also provides a unique multi-tiered user interface that allows marina staff to operate in a business mode and boat owners to operate in a consumer mode with capability to instantly switch to appropriate modes within subscribed marinas.
With MARIAH, marina operators and boat owners from multiple marinas can now easily connect and interact as needed.
In conjunction with the core management features, the first apps included in MARIAH are one-step paperless billing, on-line bill pay, MeterWalk, and MyBoatStatus.
One step paperless billing simplifies marina operations with simple one button click electronic invoicing for recurring slip rental and mooring fees. The days of stuffing hundreds or thousands of envelopes on a monthly basis are replaced with e-Invoices.
On-line bill pay assists a marina's accounting resources by providing a means for boat owners and marina customers to view and securely pay invoices on-line that originated from all departments of a marina.
MeterWalk mobile app for iOS and Android smart phones provide a portable means to enter utility meter readings and rental space inventory verification.
MyBoatStatus is a wireless online vessel monitoring solution allowing boat owners to connect to their boats from anywhere using any Internet enabled device and monitor vital boat health details. MyBoatStatus can also directly interface with the MarinaOffice marina management solution allowing the marina to monitor and be alerted of potential problems as well.
"We are truly pleased to be awarded the Boating Industry Top Product 2015 award," says Vance Young, Director of Technology at Scribble Software Inc. "The MARIAH cloud platform is ground breaking technology that is quickly changing the way marinas operate and interact with their customers. The initial phase release has greatly exceeded our expectations with thousands of current subscribers. Our customers understand that marina staff can better allocate their time with efficient management tools while at the same time boat owners can be empowered to interact and connect in a self-guiding manner."
MARIAH is poised for a very dynamic future as additional apps are included. A unique "plug and play" app system exists that allows the inclusion of additional apps as functionality is added. MARIAH phase two is quickly approaching release that will include a new wave of apps expanding productivity and efficiency even more.
...
About Scribble Software Inc.
Scribble Software Inc. is a technological solution provider for several business industries and is located in Mechanicsville, Virginia. Scribble Software produces and markets the MarinaOffice Suite of Solutions, a leading marina management software solution used throughout the globe. Scribble has risen as a leader in providing comprehensive management solutions for the marina industry with the focus on providing solutions for all areas and departments of marinas. Scribble Software takes great pride in developing end to end enterprise level solutions backed by a support team second to none.