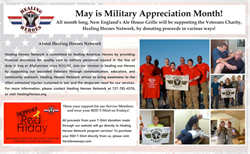 Palm Harbor, FL (PRWEB) May 06, 2015
New England's Ale House Grille is hosting a month long fundraising event to benefit the Veterans Charity, Healing Heroes Network. During the month of May, all customers visiting the Ale House will be eligible to participate in various fundraising efforts. There are many exciting events planned throughout the month, including a month long 50/50 Jenga Tournament, raffles, and giveaways.
Healing Heroes Network would like to invite you to join them on Tuesday, May 19th for a special event. For $15.00, supporters will enjoy an appetizer and draft beer, with a portion of the proceeds benefiting Healing Heroes Network! The $15.00 will include one of the selected appetizers: fish spread, hummus, onion string basket, calamari, or Bavarian pretzel bites & one of New England's Ale House 30 drafts on tap.
The funding raised through this event will be used to benefit Healing Heroes Network in aiding our brave service members in receiving much needed therapies. Healing Heroes Network provides financial assistance for quality care to military personnel injured in the line of duty in Iraq or Afghanistan since 9/11/01. Through communication, education, and community outreach, Healing Heroes Network strives to bring awareness of the often untreated injuries sustained in war and the desperate need for our services.
Since its establishment in 2008, Healing Heroes Network has raised funds to serve, support, and increase awareness, all aimed at healing the injuries of America's heroes. The goal of Healing Heroes Network is to help our injured heroes get back to more productive, healthy lives that they enjoyed before being deployed. Healing Heroes Network is a testament to the warmth, gratitude, and devotion Americans hold for our Heroes who do so much for all of us every day.
For more information about Healing Heroes Network and the important work they do, please visit http://www.HealingHeroes.org.
About Healing Heroes Network;
After the terrorist attacks on September 11, 2001, and the subsequent war on terror, thousands of members of our armed forces have been injured in Iraq and Afghanistan. Often these men and women are unable to receive the treatments that would facilitate their return to a productive civilian life. While the Department of Veteran Affairs provides treatment to these troops, the scope of covered services is limited, sometimes unavailable, and often delayed.
Healing Heroes Network was founded in 2008 by Dr. Allan Spiegel and his wife Stacey in order to fill these gaps. Healing Heroes Network, a 501(c)3 charitable organization, was formed with a network of caring providers throughout the United States to facilitate the treatment process. Healing Heroes Network provides financial assistance for those desperately needed therapies and services.
For more information on Healing Heroes Network or how you can donate and support our mission, please visit our website at http://www.HealingHeroes.org.